Violinist marks 40 years on the concert stage by releasing three recordings on the classical music streaming app Idagio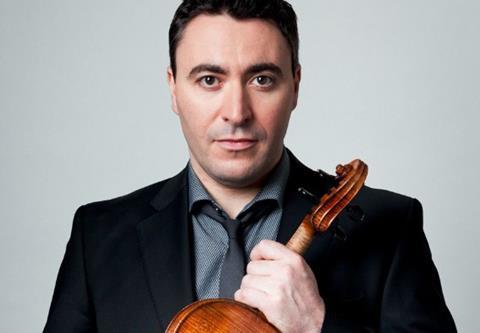 Russian violinist Maxim Vengerov is to release three new recordings this spring under a new partnership with the classical music audio streaming service, Idagio. The musician will issue two studio and one live recording in quick succession, including a rare recording of the barely-charted original Sibelius Violin Concerto.
The news arrives as Vengerov prepares to celebrate 40 years on the concert stage in 2020. The recordings will be followed in the summer by a starry gala performance at the Royal Albert Hall in London on 12 June, for which Vengerov will be joined by cellist Mischa Maisky and pianist Martha Argerich in Beethoven's Triple Concerto, and by the Oxford Philharmonic Orchestra under founder and music director Marios Papadopoulos in Shostakovich's Violin Concerto no.1. Completing the programme is Sarasate's Navarra, in which Vengerov will perform with students from the Royal College of Music, where he is Polonsky Visiting Professor of Violin. The violinist spent an unprecedented four seasons as artist-in-residence with the Oxford Philharmonic from 2013.
The partnership with Idagio begins this January with a recording Vengerov made in 2015 of Tchaikovsky's Violin Concerto and Ravel's Tzigane with the Orchestre Philharmonique de Radio France and conductor Myung-Whun Chung. The second release, in February, is a solo recital with pianist Roustem Saïtkoulov, featuring sonatas by Brahms, Enescu and Paganini's I palpiti, recorded live at the Carnegie Hall in 2018.
Speaking of the new association, and of four decades on the concert platform, Vengerov said: 'I am thrilled to be celebrating this special occasion with my friends and marking this year with a new chapter in my recording life. Idagio is a pioneer in classical music and offers an experience and sound quality like no other streaming service. I am very excited about this new partnership with Idagio.'
The third recording, to be issued in June, is of the first version of Sibelius's Violin Concerto. The Finnish composer withdrew the concerto and revised it extensively following its premiere in February 1904 by Victor Nováček, a teacher unable to meet the work's technical demands. The first version has been recorded only once before, by Leonidas Kavakos with the Lahti Symphony Orchestra conducted by Osmo Vänskä in 1991; Vengerov will present this new studio recording with the Oxford Philharmonic and Papadopoulos, with special permission from the composer's family.
Watch: Maxim Vengerov rehearses the Sibelius Violin Concerto
Watch: Maxim Vengerov gives Sibelius Violin Concerto masterclass
Read: Maxim Vengerov - Me and my Strads
Also this spring, Vengerov will join Saïtkoulov and pianist Polina Osetinskaya in recital across Europe and the US in repertoire by Strauss, Ysaÿe, Enescu, Ravel's Tzigane and Brahms' first three Sonatas. They will perform at New York's Carnegie Hall (11 February), Hamburg's Elbphilharmonie (13 March), Paris' Philharmonie (26 March), Vienna's Musikverein (28 April), Milan's Conservatorio Verdi (19 May) and Turin's Auditorium Rai Arturo Toscanini (27 May).
Vengerov has received numerous fellowships and awards from a number of institutions over the course of his career. In 2012 he was awarded an Honorary Visiting Fellowship at Trinity College Oxford, and in 2019 he received an Honorary Doctorate from the Royal College of Music London, as well as the Medaille de chevalier de l'ordre du Mérite culturel de Monte Carlo, one of the highest distinctions of the arts given by the Palace. In 2007 Vengerov received the World Economic Forum Crystal award honouring artists who have used their art to improve the state of the world. He plays the ex-Kreutzer Stradivari violin 1727.
New subscribers to Idagio receive a 15 per cent discount on premium membership using 'Maxim Vengerov' as a discount code.