The violinist receives $5,000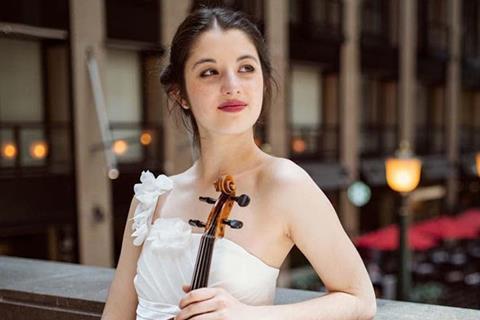 The 18–year–old violinist María Dueñas has been awarded the 1st prize at the Getting to Carnegie Competition 2021. She receives $5,000.
Born in Granada, Spain, Dueñas is currently studying with pedagogue Boris Kuschnir at the Music and Arts University of the City of Vienna and at the University of Music and Performing Arts of Graz. She is a former 1st prize winner of the Zhuhai Mozart Internation Competition (China 2017) and the Vladimir Spivakov International Competition (Russia, 2018), among others; and was named 'Artist of the Month' by Musical America in September 2019.
The Getting to Carnegie Competition emerged out of a musical experiment nearly seven years ago, when pianist Julian Gargiulo invited musicians from the world's top international conservatories to compete for a place on the Carnegie Hall's stage with him. It is nicknamed, by some, as 'the Hunger Games of classical music'.
Read: EOS Quartet wins 2020 Orpheus Chamber Music Competition
Read: Polish National Violin Competition Zdzislaw Jahnke announces prizes
Read: Oskar Nedbal International Viola Competition announces winners
In this year's competition, held entirely online, each finalist played the world premiere of a movement from Julian Gargiulo's new Sonata for Violin and Piano. The winner was decided by vote, with 50% of the votes coming from the audience watching the live stream, and the other 50% cast by a panel of professional musicians.
'I am excited and look forward to performing my new violin sonata with the incredible young talent that is Maria Dueñas', said competition founder Julian Gargiulo.
María Dueñas will perform at the Getting to Carnegie Competition at Carnegie Hall and at the 17th Water Island Music Festival in St. Thomas, U.S. Virgin Islands.