The Italian foursome receives the CHF5,000 first prize at the Zurich competition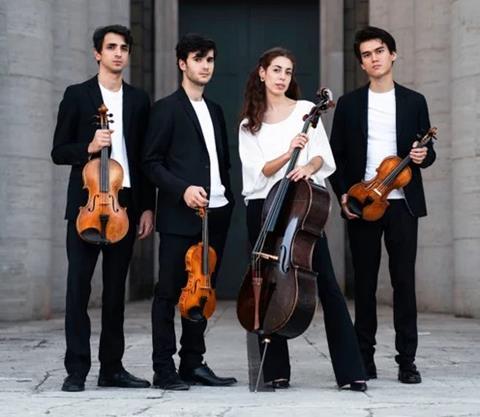 The Orpheus Chamber Music Competition has concluded with the Eos Quartet from Italy receiving the first prize of CHF5,000. The group, made up of violinists Elia Chiesa and Giacomo del Papa, violist Alessandro Acqui and cellist Silvia Ancarani, formed in 2016 at the Conservatorio di Santa Cecilia in Rome. Second prize and CHF2,500 went jointly to the KamBrass Quintet, from Barcelona, and the Nanos Trio, from Ireland, Spain and France. No third prize as given, but other prizes went to Camerata Rhein and Trio 99. In all, 22 ensembles took part in the competition this year.
In addition to cash prizes, all three of the top-placed groups will have the opportunity to commission a new piece from a young composer. The commissioned works will be premiered next year at the Swiss Chamber Music Festival.
Read: Winners announced for Pablo Casals International Award 2020
Read: Polish National Violin Competition Zdzisław Jahnke announces prizes
Read: Sào Soulez Larivière wins Fanny Mendelssohn Advancement Award
The Eos Quartet has studied at the Hochschule der Künste Bern and Hochschule der Künste in Zurich among other institutions. The players are currently part of the string quartet advanced specialisation course at the Stauffer Academy in Cremona, supervised by the Quartetto di Cremona. It has also participated in chamber music masterclasses with Isabel Charisius (Alban Berg Quartet), Corina Belcea (Belcea Quartet), Eckart Runge (Artemis Quartet), Lawrence Dutton (Emerson Quartet) and the Jerusalem Quartet. Since 2017 the players have participated in the "Le Dimore del Quartetto" scheme, which supports young string quartets in the early phase of their career as well as promoting the cultural heritage of historic houses.