Among the performers are the London Symphony Orchestra and the Kanneh-Mason family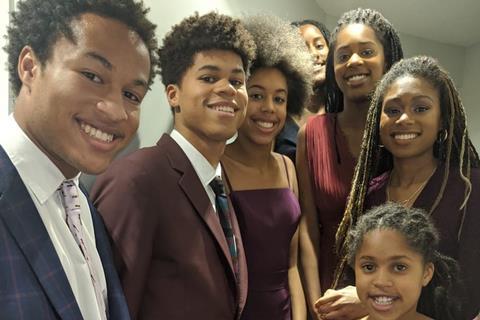 The Barbican has announced that its autumn concert series Live from the Barbican is scheduled to go ahead with a reduced, socially distanced live audience in the Barbican Hall.
The newly programmed series runs from 4 October – 13 December 2020 and features an eclectic mix of artists across different genres.
Among them are the Kanneh-Mason Family (Thursday 22 October), and the BBC Symphony Orchestra, with concerts including the world premiere of a chamber orchestra version of Magnus Lindberg's Accused (6 November), as well as a performance with physicist Brian Cox, exploring questions raised by music and the Cosmos (Sunday 13 December).
The Barbican's resident orchestra the London Symphony Orchestra also returns to the Barbican Hall with its own series of eleven concerts from 29 November and throughout December. Simon Rattle conducts the concerts, which will feature all five Beethoven piano concertos with guest soloist Krystian Zimerman. The concerts will be performed twice per day in front of a live audience and recorded for future broadcast.
All performances will be streamed live from the Barbican Hall on a pay-to-view basis, with 48 hours to view or re-watch the concert after it begins. Tickets for the live experience in the auditorium will also be available for all concerts, if Government guidance continues to permit this.
Read: Cadogan Hall to resume indoor live performances with audiences
Read: London Symphony orchestra moves autumn season to LSO St Luke's

Read: Academy of St Martin in the Fields presents a series of autumn concerts with live audience
Watch: Working from home: the Kanneh-Mason family
Huw Humphreys, Head of Music at the Barbican, said: 'As it became apparent that the show couldn't go on as planned this autumn, we realised we had to start over and create an entirely new season that's right for here and now. At the Barbican we exist to connect the arts and artists with our audiences and so, in this new autumn concert series, we want to make the most of the technology available to achieve that. We're now able to present a great digital offer, which has the potential to reach an even bigger global audience, while also making sure that audiences can visit the Barbican Hall in person for a live experience once again. The programme we offer this autumn is what the Barbican stands for: it is eclectic and diverse, it features superstars and newcomers, it offers the best of classical, contemporary classical, jazz, pop, folk, indie – just like the programme our audiences know and love. We are fortunate to have not just a loyal audience but also strong artistic partnerships across the genres. These partnerships are now perhaps more vital than ever, and we're committed to doing all we can to support artists and partner organisations – and the unique ecosystem that is the UK's music industry. We're extremely grateful for the generosity of our own supporters, without whom none of this would be possible.'
In line with government guidelines, new safety measures are in place including operating at reduced capacity, timed entry slots to ensure a safe flow of visitors through the space, with tickets needing to be booked online at barbican.org.uk in advance of a visit. Safety and visitor information is available here: barbican.org.uk/your-visit/coronavirus-advice/essential-safety-information