The violinist and cellist have been named artistic directors of the Boswil Summer Festival in July 2023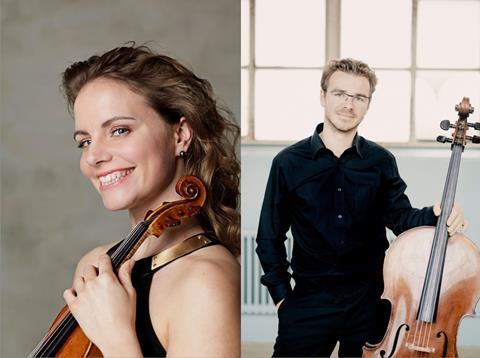 Read more news articles here
The board of trustees of the Künstlerhaus Boswil and its managing director Claudio Rossetti have announced the appointment of violinist Julia Fischer and cellist Benjamin Nyffenegger as co-artistic directors of the Boswil Summer Festival 2023.
Fischer and Nyffenegger take on their roles following the resignation of former programme manager Andreas Fleck in December 2022. Fleck's resignation triggered speculation that the Boswil Summer Festival would not continue.
The duo's first project as an artistic management team will be the '70 years of Künstlerhaus Boswil' anniversary concert on 5 July 2023. The duo will continue to organise smaller festival activities during 2024 and present the first full summer festival in 2025.
The Künstlerhaus Boswil is a successful cultural beacon in the canton of Aargau, Switzerland, offering programmes ranging from children's concerts, youth orchestras and master concerts. Fischer and Nyffenegger will join the artistic management team, comprising Hugo Bollschweiler, Stefanie Braun and Anne-Cécile Gross.
Fischer and Nyffenegger's musical collaboration begain ten years ago as founding members of the Julia Fischer Quartet. 'The Boswil Summer Festival stands for an impressive artistic tradition,' said the new artistic management team. 'Andreas Fleck has built up this festival for more than 20 years with a lot of love and passion and we were able to experience the special atmosphere of the Künstlerhaus Boswil at some concerts, including joint concerts.
'It is an honour for us that the beautiful task of artistically directing and continuing the Boswiler Sommer has been entrusted to us. We are grateful for the future support of the strong and motivated team at the Künstlerhaus and look forward to a successful collaboration. We make it our task to provide the audience with an impressive and unforgettable concert experience at the Boswil Summer Festival.'
Born in Munich in 1983, Fischer has enjoyed an international career since her early competition success as a teenager as well as her Carnegie Hall debut in 2003. She teaches at the Hochschule für Musik in Frankfurt and was Germany's youngest professor at the time of her appointment.
Nyffenegger, born in Bern in 1984, is deputy solo cellist in the Tonhalle Orchestra and cellist of the Julia Fischer Quartet and the Oliver Schnyder Trio. He is also the artistic director of the Seetal Classics in Seon.