The international competition, which marks its 10th anniversary, has announced its list of winners, with two string players among them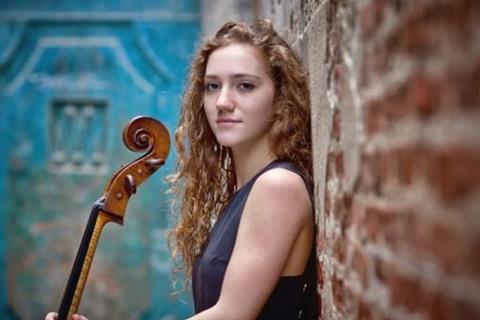 The 2020 International Classical Music Awards, which marks its 10th anniversary this year, has announced its list of winners, with two string players amongst them.
The Italian cellist Erica Piccotti was named Young Artist of the Year, while the Discovery Award went to 16-year-old German cellist Philipp Schupelius.
Born in 1999, cellist Erica Piccotti began her training in her hometown, Rome, with Francesco Storino at the Accademia Nazionale di Santa Cecilia, switching, at the age of 14, to Antonio Meneses who taught her both at Bern University of the Arts and the Walter Stauffer Academy in Cremona. She won first prize in the 2014 Antonio Janigro International Cello Competition in Zagreb as well as second prize in the 2017 International Johannes Brahms Competition, and has given performances at Italian music festivals such as the Rome Chamber Music Festival, the Alfredo Piatti International Cello Festival and the Chigiana International Festival.
Born in Berlin in 2003, Philipp Schupelius began cello lessons with Ulrich Voss in Berlin, with whom he has been studying as a junior student at the Hochschule für Musik Hanns Eisler in Berlin since 2013. In the same year, he also became a student of the specialised music grammar school 'Musikgymnasium Carl Philipp Emanuel Bach' in Berlin-Mitte. The young cellist was a prize-winner at the 'Dussmann' Music Competition in Berlin, the International Cello Competition in Liezen (Austria), the 'International Music Competition St. Blasien', and has recently won 1st prize with maximum points awarded in the cello solo category at the national level of the 'Jugend musiziert' competition.
Among the string players performing on the ICM winning audio and video releases are instrumentalists Alina Ibragimova and Gidon Kremer.
Other notable awards went to the Austrian-Russian pianist Elisabeth Leonskaja (Lifetime Achievement Award), the Latvian soprano Marina Rebeka (Artist of the Year), Pentatone Classics (Label of the Year) and the Luxembourgish-Spanish composer Ivan Boumans (Composer Award).
ICMA President Remy Franck says: 'The ICMA jury members come from 16 countries and, with many years of experience, offer an international view on the various releases for a fair and balanced assessment. As a result, ICMA is able to present again an outstanding international list of winners, with productions from 18 labels and 10 different countries. As a totally independent and international jury we want to ensure that the ICMA quality seal reflects the continually evolving musical landscape and that the winning releases encompass a very good global mix of long-established musicians and young artists at the beginning of their career. This proves again that at the ICMA less well-known musicians and smaller independent labels have the same chances like the most renowned performers and labels. For us, only musical quality and integrity are important.'