Four violinists will progress to the competition's concerto final round at the end of January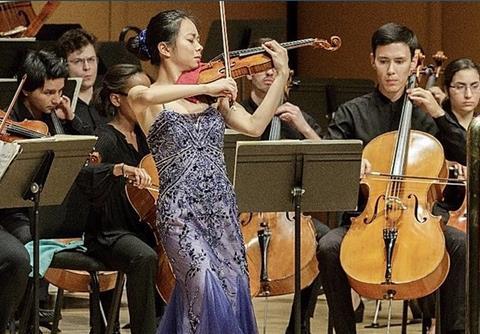 Sirena Huang, winner of the 2017 EOIVC
The second triennial Elmar Oliveira International Violin Competition in Boca Raton, Florida, US, has selected eight candidates to perform at the contest's semifinal round, which takes place on 21 and 22 January at Lynn Conservatory of Music.
Zachary Brandon (21, US), Jung Min Choi (25, South Korea), Igor Khukhua (27, Russia), Jeein Kim (24, South Korea), Minchae Kim (25, South Korea), Haerim Oh (20, South Korea), Julian Rhee (19, US) and Vikram Francesco Sedona (19, Italy) will each compete for the opportunity to perform a work for violin and orchestra in the finals with the Lynn Philharmonia conducted by Jon Robertson. The repertoire list comprises the Brahms and Dvořák violin concertos, Lalo Symphonie espagnole and Saint-Saëns Violin Concerto no.3.
Read: Sirena Huang wins inaugural Elmar Oliveira Violin Competition
The competition is open to violinists aged between 16 and 32. In addition to a cash prize of US$30,000, the first prize bounty includes career support, national and international performance engagements, a violin provided by Joseph Curtin, a bow and a violin case.
The Elmar Oliveira International Violin Competition (EOIVC) was established in 2016 by violinist Elmar Oliveira, first prize winner (ex aequo together with Ilya Grubert) at the Tchaikovsky Competition in Moscow in 1978. The inaugural Elmar Oliveira Competition in 2017 was won by US violinist Sirena Huang.
A report from the final round of the Elmar Oliveira International Violin Competition will be published in the April 2020 issue of The Strad.