Bulgarian violinist Martin Zayranov has won the 20,000 zl first prize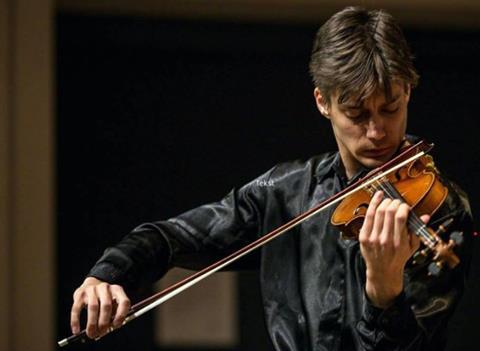 First prize winner Martin Zayranov. Photo Dariusz Kulesza
Bulgarian violinist Martin Zayranov has won the 20,000 zl first prize at the 2nd Grażyna Bacewicz International Violin Competition, which concluded on 14 December at the Grażyna and Kiejstut Bacewicz Academy of Music in the Polish city of Łódź.
Second prize went to Poland's Alexander Kuls, and third was shared by Kuls's compatriot Marta Gidaszewska and South Korea's Woo Hyung Kim.
Two Russian violinists, Olga Artyugina and Sophia Devutskaya, jointly won the award of distinction. Special awards went to Kuls, Zayranov and Gidaszewska.
The contest's namesake is the Polish composer and violinist Grażyna Bacewicz (1909 Łódź – 1969, Warsaw), and as part of their programmes candidates were required to perform a miniature by Bacewicz, and her Polish Caprice for violin solo. Bacewicz is recognised as the the first female Polish composer to achieve national and international stature. She studied composition with Kazimierz Sikorski, violin with Józef Jarzębski and piano with Jan Turczyński at Warsaw Conservatory of Music, and subsequently took composition lessons with Nadia Boulanger in Paris, and violin with André Touret and Carl Flesch. Among her compositions for strings are seven string quartets, two piano quintets, several violin concertos, as well as her Suite for Two Violins, and Concerto for String Orchestra and Music for Strings, Trumpets and Percussion.