Jury made up of editors of classical music magazines and websites chooses its albums of the year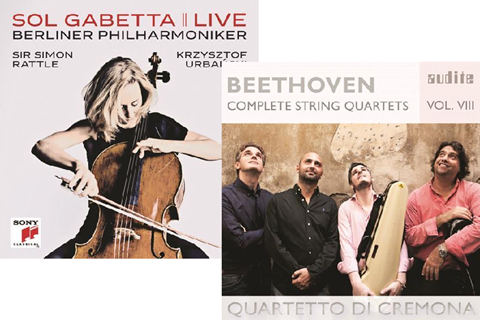 Sol Gabetta's recording of the Elgar and Martinů cello concertos and the final two instalments in the Cremona Quartet's complete Beethoven series have picked up awards in the concerto and chamber music categories respectively of the International Classical Music Awards (ICMA).
The ICMAs, now in their eighth edition, are voted on by a jury of 17 editors of European classical music magazines and websites. The full results can be seen here.
The Cremona Quartet's recording was reviewed in The Strad as 'combining exemplary technique and intonational purity with an interpretive acuity that strips away 19th-century rhetoric while avoiding the pitfalls of sounding merely "historically informed".'
Gabetta's 'exhilarating Martinů and melancholy Elgar concertos' – as reviewed in The Strad – were recorded live with the Berlin Philharmonic under Krzysztof Urbański and Simon Rattle respectively.