The ensemble received £10,000 and a performance at the Royal Over-Seas League Annual Music Competition Gold Medal Final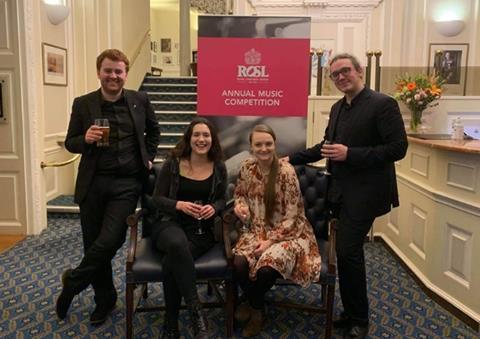 The Fitzroy Piano Quartet has triumphed over three other ensembles to win the Royal Over-Seas League Annual Music Competition string ensembles section, which played out last night in London.
The ensemble performed a programme of Frank Bridge's Phantasy in F sharp minor for Piano Quartet H.94 and the finale from Schumann's Piano Quartet in E flat major op.47.
The ensemble and the other section winners will perform at the Gold Medal Final at Queen Elizabeth Hall, Southbank Centre on 1 June 2020. After the concer the jury will award a £20,000 first prize to the winning soloist. Among the soloists performing is strings section winner Eleanor Corr.
Read: Eleanor Corr wins ROSL Annual Music Competition Strings Section
Watch: Eleanor Corr performs her ROSL section winning recital
The four section finalists were chosen during two rounds of preliminary auditions, which resulted in the Echéa Quartet, Fitzroy Piano Quartet, Barbican Quartet and Halcyon Quartet going into the final. The adjudicators were David Curtis, Nicola Eimer, Gavin Henderson and Geoff Parkin.
The Fitzroy Quartet said: 'We are completely overjoyed to have been awarded first prize in this very special competition. It's a huge honour for us and we feel very privileged to have shared the final with these amazing groups, who all played incredibly. We are so grateful to the Royal Overseas League Arts for this prize and for all they do, and we can't wait to continue performing this wonderful music for many more audiences to come! We also want to thank our wonderful mentor Oliver Wille and the Royal Birmingham Conservatoire for their fantastic Associate Ensemble programme.'
The Fitzroy Piano Quartet - violinist Laura Custodio Sabas, violist Emily Pond and cellist Michael Newman from the Fitzroy String Quartet and pianist Roman Kosyakov - came together at the Royal Academy of Music. The Fitzroy String Quartet formed at the Academy in 2014 and won the Beethoven Prize at the second International Beethoven Chamber Music Competition. The quartet's current position as associate ensemble at the Royal Birmingham Conservatoire led them to Roman Kosyakov, who studies there with Pascal Nemirovski.
The Gold Medal Final will be held at Queen Elizabeth Hall, London on 1 June. Former winners include cellist Jacqueline du Pré, harpsichord player Melvyn Tan, pianist Piers Lane, flautist Juliette Bausor, guitarist Sean Shibe and bass baritone Jonathan Lemalu.