The British violinist received £5,000 and a place at the Gold Medal Final at Queen Elizabeth Hall this summer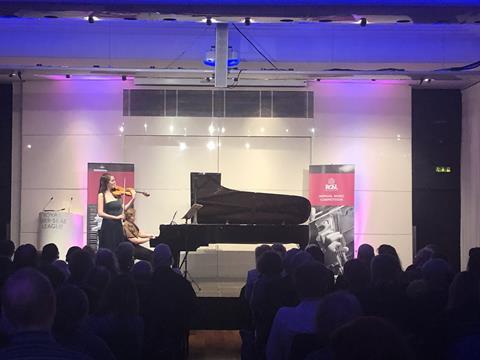 Violinist Eleanor Corr will progress to the Gold Medal Final in June
British violinist Eleanor Corr has won the string section prize at the 68th Royal Over-Seas League Annual Music Competition, which took place on 25 February in London. Corr was awarded £5,000 and a place at the Gold Medal Final at London's Queen Elizabeth Hall on 1 June 2020, which carries a cash award of £15,000.
Violist Julie Park, violinist Samuel Staples and cellist Maxim Calver also performed at the final, having progressed from two rounds of preliminary auditions. The adjudicators were Gavin Henderson, Geoff Parkin, Hannah Roberts and Rodney Slatford.
Corr has a freelance career as a recitalist and chamber musician in the UK and Norway, playing on both modern and period instruments in duos with pianists Emil Duncumb and Aleksandra Myslek, and with quartet Pocket Sinfonia. She studied at the Royal Academy of Music in London, where she was a Sterndale Bennett Scholar, and she was leader of RAM Symphony Orchestra. Since then she has led the English Touring Opera across the UK, been guest principal second violin with several Norwegian orchestras, and performed with the London Symphony Orchestra and the Royal Philharmonic Orchestra. She recently recorded Stravinsky's L'Histoire du Soldat for Linn Records, conducted by Oliver Knussen.
Korean-New Zealander violist Julie Park received the £1,000 Len Lickorish Memorial Prize for a String Player of Promise.
The ROSL Annual Music Competition grew out of a series of concerts inaugurated at Over-Seas House in 1947 under the banner 'Festival of Commonwealth Youth'. The Festival became competitive in 1952, with a first prize of £10. Today, the competition awards in excess of £80,000 to solo performers, accompanists and chamber ensembles. The contest comprises categories for wind and percussion, singers, strings, keyboard, string ensemble and mixed ensemble. Finalists are free to choose their own recital programme.
ROSL is a non-profit that supports talented young artists and musicians from the UK and Commonwealth, providing performance and exhibition opportunities which bring their work to the attention of the professional arts community, media and general public.