The French ensemble receives SEK1,000,000 (£80,000) for their exceptional musical achievements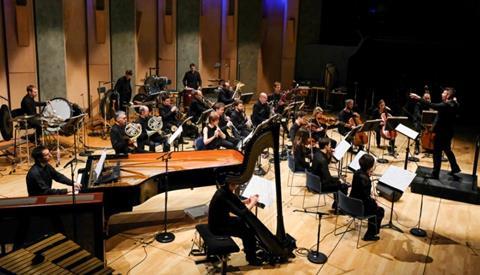 The 30th Polar Music Prize was awarded to both French contemporary group Ensemble Intercontemporain and US rockstar Iggy Pop on 8 February. Each recipient won a handsome cash prize of SEK1,000,000 (£80,000). The results were announced online and the award ceremony will take place at the Grand Hôtel in Stockholm, Sweden, on 24 May.
The Paris-based Ensemble Intercontemporain comprises 31 soloists of various instruments, making it, in size, one of the largest contemporary music groups in the world. It was founded by French composer Pierre Boulez - also a laureate of the Polar Music Prize - in 1976. The ensemble is dedicated to performing contemporary music from the 20th and 21st centuries and regularly collaborates with different artforms and experiments with modern instrumental techniques. It also concentrates on music education, hosting creative workshops for young musicians, conductors, and composers. It is currently led by German composer and conductor Matthias Pintscher.
The Polar Music Prize panel described the ensemble as 'the Stradivarius of modern music, who have inspired the greatest composers of our time to create new masterpieces since the 1970s'. Managing director of the Polar Music Prize Marie Ledin also said of the group: 'Ensemble Intercontemporain are a ground-breaking collective and their work has helped push the boundaries of modern classical music.'
The Polar Music Prize was created by Swedish pop group ABBA's publisher, lyricist and manager Stig Anderson in 1989, who also created the Polar Music record label. Presesnting its first award in 1992 to Sir Paul McCartney, the prize celebrates exceptional achievements by musicians of all genres across the world. Past winners include Sting, Valery Gergiev, Peter Gabriel, Björk, Anne-Sophie Mutter and Metallica.
The prize has since become one of the broadest musical awards in terms of its laureates' nationalities, genres and cultures. Its committee is made up of eleven members. Nominations are also received from the public and the International Music Council, which is supported by UNESCO to promote musical diversity.