Sergei Roldugin is a close friend of Russian president Vladimir Putin and previously established a concert series at the venue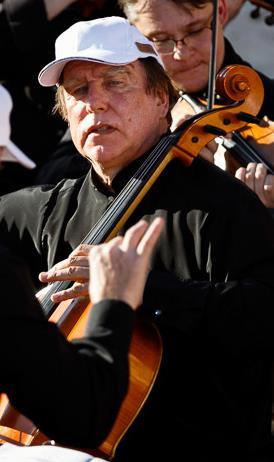 Cellist and businessman Sergei Roldugin has lost all future engagements with the Brucknerhaus Linz, effective immediately. Roldugin is a close friend of Putin and godfather to Putin's eldest daughter, Maria. He has reportedly been involved in money laundering schemes in the past.
Roldugin is the head of the House of Music in Saint Petersberg and had established a Russian Tuesdays concert series in Austria.
Expressing shock at the Russian invasion of Ukraine, Brucknerhaus Linz stated, 'This war is not justified by anything or anyone. Whoever tries this and thus stands on the side of the aggressor and injustice, has no place on the stages of the Brucknerhaus Linz.
'We therefore end with immediate effect and of course also for the 2022/23 season any cooperation with the House of Music in Saint Petersburg, an institution founded in 2006 on the initiative of the Russian Ministry of Culture and then led by Sergej Roldugin, one of the closest friends of the Russian president. We therefore ask for your understanding that the concerts of the series of Russian Tuesdays can no longer take place.
'We will immediately end existing and planned engagements of artists and ensembles who publicly defend the Russian approach, regardless of their nationality.
'Since this war is not waged with the consent of the entire Russian population, there must be no accountability for Russian artists and sound bodies. On the contrary, those who strive for peace and thus take a great personal and professional risk in their homeland deserve our unlimited support.'
The statement concludes, 'Art and music are the daughters of freedom, not handlers of war and terror!'
Roldugin was appointed principal cellist of the Kirov Opera Theatre Orchestra's in 1984, subsequently holding a professorship at the Saint Petersburg Conservatory, where he served as the institution's rector from 2002-05. He is the Mariinsky Theatre Orchestra's guest conductor and has been named a People's Artist of Russia.
According to the Panama Papers of 2016, Roldugin was described as the 'secret caretaker' of Putin's hidden wealth, including his involvement with Swiss lawyers and various offshore companies.