A virtual festival will be held in place of the usual event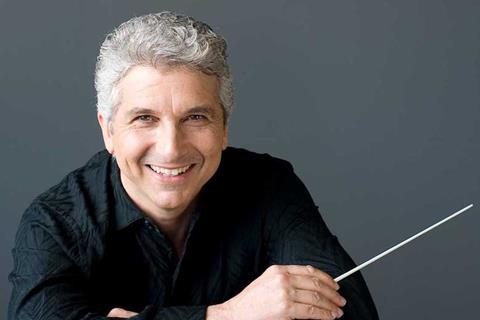 Due to COVID-19, the Colorado Music Festival has cancelled this summer's festival, which was scheduled to take place from 25 June to 1 August at Chautauqua Auditorium in Boulder, Colorado. Instead, the organisational team are planning a Virtual Colorado Music Festival, featuring Music Director Peter Oundjian and some of this summer's scheduled artists.
'Having sustained hope throughout these past months that presenting the Festival would be possible, we now accept that we are unable to ensure the health and safety of our beloved musicians, patrons, housing hosts, volunteers and staff – a responsibility we hold paramount,' said Elizabeth McGuire, executive director and Anne Beer, board president in a letter to Festival patrons. "The staff and board of directors are all profoundly saddened by the loss of the Festival's exceptional 2020 live performance season. No group will suffer the impact of this decision more than our Festival musicians and seasonal staff who have already lost wages from their home orchestras and other cancelled performances. This is why we have created a Musician Fund, allowing us to compensate Festival musicians with critical income during their time of need."
Individuals who have already purchased tickets for the 2020 Festival will have the opportunity to support the Musician Fund by donating all or a portion of the value of their tickets. Individuals may also choose to credit their ticket value toward 2021 season tickets or receive a refund. The public can donate to the Musician Fund here.
CMF music director, Peter Oundjian, is working with artists to create a Virtual Colorado Music Festival, whose content will be released first to those who purchased tickets to the 2020 festival and later to the public via the CMF website at www.coloradomusicfestival.org/festival.
Full information about the Virtual Colorado Music Festival will be released when available. For updates visit https://coloradomusicfestival.org/ and join the email list at https://coloradomusicfestival.org/subscribe/.
'While we are faced with the disappointment of canceling this year's Colorado Music Festival, we are grateful to have the opportunity to offer a virtual festival. Without exception, the musicians I've spoken to are eager to participate,' said Oundjian. 'We hope people might consider donating to the Musician Fund. We are determined to support our musicians through this period, which is so challenging for so many, and certainly those in the performing arts.'
Oundjian is working to determine all of the content for the virtual festival, but it is likely to include the following.
Colorado Music Festival Orchestra musicians from cities such as Charlotte, Phoenix and San Antonio performing masterpieces of the chamber music repertoire

A special evening with pianist Jan Lisiecki featuring some of his favorite piano works alongside a conversation with Oundijian

A performance by Augustin Hadelich, violinist, possibly taking place from Oundjian's Connecticut home

A performance and discussion with the St. Lawrence String Quartet and the legendary John Adams, CMF 2020 Composer-in-Residence

An evening with the Juilliard String Quartet to commemorate Robert Mann, the founding first violinist of the quartet, whose 100th birthday would have been this July

A performance by the Takács Quartet, marking the debut of their new violist, Richard O'Neill