The concerts will be open to socially distanced audience members in groups of up to six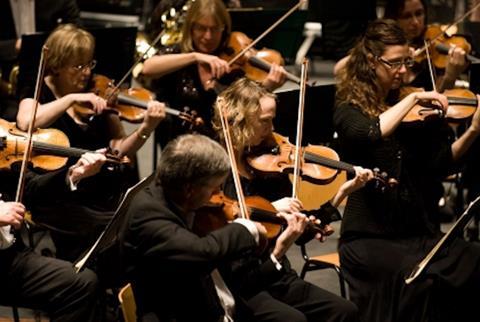 The City of London Sinfonia (CLS) is to return to Southwark Cathedral on Friday 18 September for two socially distanced performances of J.S. Bach's Goldberg Variations.
Two hour-long concerts at 2pm and 7.15pm will feature Dmitry Sitkovetsky's arrangement of the Goldberg Variations for string trio, performed by Alexandra Wood (Leader), Ruth Gibson (Sub-Principal Viola) and Joely Koos (Co-Principal Cello). With capacity limited to 140 places per performance, audiences will be positioned in flexible and socially distanced seating configurations in the nave or in-promenade.
In line with the latest government legislation that comes into effect from Monday 14 September 2020, the CLS performances on Friday 18 September in Southwark Cathedral, which is a Covid-secure venue, will be open to socially distanced audience members in groups of up to six.

The performance will begin with a short mindfulness introduction led by Ruth Gibson. It will be recorded by Apple and Biscuit Recordings and broadcast on the Orchestra's YouTube and Facebook channels later this month.
Alexandra Wood, City of London Sinfonia's Creative Director & Orchestra Leader, said: 'It is tremendously exciting to be returning to live music-making with CLS on 18 September. It has been a long and strange six months for performers and audiences alike – unable to experience that connection, the magic, the atmosphere, the special silences and then, of course, the applause. Whilst we have been able to make music at home and explore online possibilities, we have missed sharing our music with a live audience, as the audience really is the most important part of an occasion. We therefore want you to enjoy the whole experience in these concerts – the music, the building, the restorative breathing led by our wonderful Ruth – while feeling relaxed in a safe environment.'
The CLS has continued sharing music online throughout the lockdown. In Comfortable Classical at Home, the ensemble broadcast live, interactive concerts for audiences including those most at risk of social isolation – people in care homes, hospitals, hospices and educational facilities. Now restrictions around live performance have eased, the first outdoor Comfortable Classical of the autumn season will take place on Tuesday 15 September in the Albany Garden for an invited audience. The performance will be live streamed on Facebook, joining the more than thirty Comfortable Classical concerts available to watch on-demand.
Read: London Mozart Players launch 'Classical Club'
Read: Live music and audience to return to the Barbican

Read: London Philharmonic Orchestra returns to Royal Festival Hall this autumn
Mindful Music, a CLS initiative first launched in 2018, has also moved online - to Facebook and YouTube - with bite-sized sessions combining live classical music with mindful meditation. The pandemic also inspired the creation of a new in-conversation series, Lockdown Chats, hosted by City of London Sinfonia's Creative Director and Orchestra Leader, Alexandra Wood. Available on Facebook, YouTube, SoundCloud, Apple Podcasts, acast and Spotify, the series features CLS musicians and collaborators including the composer Brett Dean, recorder player Genevieve Lacey, and baritone and composer, Roderick Williams.
CLS musicians have also been performing outdoors since July with Opera Holland Park and as part of Lunchtime Classicals, a free pop-up concert series which will continue throughout September every Wednesday from 12-2pm in Jubilee Park, Canary Wharf, in association with Spitalfields Music. The upcoming programme includes CLS's String Quartet (9 Sept), Wind Quintet (16 Sept), Wind Trio (23 Sept) and String Trio (30 Sept).