This ticketed series of concerts filmed in unusual or iconic venues will take place between 24 September and 15 November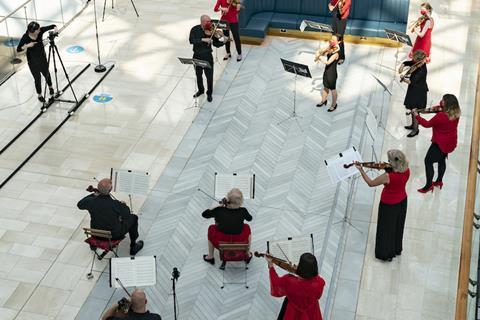 In response to the pandemic, the London Mozart Players is launching 'Classical Club', a series of classical music concerts filmed in unusual or iconic venues and streamed online via a password-protected broadcast platform.
The eight-concert series includes symphonies by Prokofiev and Mendelssohn, concertos from Beethoven, Strauss and Schumann, quintets by Mozart and Weber, Walton's Façade Suite and Stravinsky's The Soldier's Tale; as well as Paul Patterson's orchestration of Roald Dahl's Little Red Riding Hood and The Three Little Pigs.
As well as familar concert halls including St John's Upper Norwood, Fairfield Halls Croydon, St John's Smith Square, the concerts will be filmed in St Pancras Clock Tower, Freemasons' Hall, the Great Conservatory at Syon Park and the Royal Hospital Chelsea. Where possible, a limited socially-distancing audience will be able to attend.
Read: London Mozart Players launches online recitals for most vulnerable
Read: London Mozart Players to resume live performances
Read: London Mozart Players launch 'At Home with LMP' web page
Continuing an LMP tradition of supporting rising stars, the concerto solos will be performed by emerging talents from the Young Classical Artists Trust (YCAT).
Having given its music away online for the last six months, LMP's Classical Club concerts will be ticketed. Individual concerts are priced at £12 per household (children's concerts £5), with an eight-concert 'Season Pass' for £60 ('early bird' price of £50 if booked before 10 October).
Concerts will be streamed weekly via the LMP website from 24 September, with the final concert on Sunday 15 November and all concerts available on demand thereafter until 1 December. Tickets for the audience events will be sold separately (£25 each).
Read: Live music and audience to return to the Barbican
Read: London Philharmonic Orchestra returns to Royal Festival Hall this autumn
The London Mozart Players has remained active throughout the pandemic. It was the first ensemble to offer daily unique online content throughout lockdown with 'At Home with LMP', and was also the first UK orchestra to perform after restrictions were lifted in mid-June, with their LMP Live! concert series with Tasmin Little and Jennifer Pike.
Julia Desbruslais, LMP Executive Director commented: 'The LMP has a history of finding an opportunity in every situation, and the pandemic, which halted the world in its tracks, was no exception. From day one we began a roller-coaster ride of activity which kept our players playing, our audiences listening and new supporters swelling our ranks. Classical Club, our online digital series behind a paywall, is the natural development of this journey. Digital content has to play a bigger part in the programming of classical music and in order to preserve the amazing arts scene we have in this country it has to be paid for. We are terrified and exhilarated at the same time, and feel that music lovers will want to support this initiative which brings them sublime music, professionally filmed in beautiful locations, beamed right into their homes. What's more, they get the best seats in the house! We are particularly excited to be partnering with YCAT, giving young aspiring artists a platform at a time when young people are struggling to build a future.'