The programme includes operas, concerts, documentary films and commentary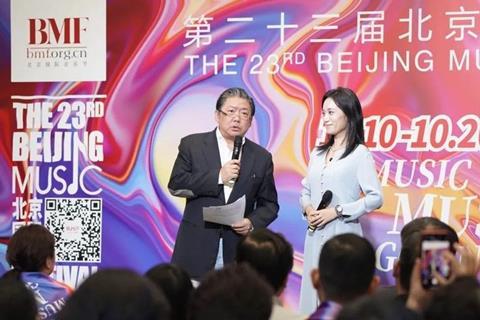 The Beijing Music Festival, which takes place from 10-20 October, has announced its line up of online and live staged events, which include concerts, operas, documentary films and commentary.
Among the events taking place before a live audience are performances of all the Beethoven violin sonatas (12-14 October), featuring ten upcoming violinists: Haoming Xie, Yige Chen, Yiliang Jiang, Wendi Wang, Runyin Zhang, Huali Dang, Qianxun Su, Ming Liu, Zhenyang Yu, and Ruifeng Lin. All ten violinists are in their twenties or thirties and have won high-profile international awards in recent years. All the concerts will be uploaded to BMF's Facebook page the day after, from 13-15 October.
The programme, subtitled 'The Music Must Go On', also includes a drive-in performance of Bizet's Carmen, several children's concerts, a performance of Beethoven's 5th symphony from the BMF Children Festival Orchestra, ten 'Music at Noon' concerts targeting audiences on their lunchbreaks, the BMF debut of the Suzhou Chinese Orchestra and a series of concerts with the themes 'Celebrating Beethoven's 250th Anniversary,' 'Born in 2000' and 'Beijing and Wuhan' (which will see the premiere of commissioned work, 'Untitled - dedicated to 2020', symbolising the joint fight against the epidemic).
Read: Two Moors Festival to take place with social distancing this autumn
Read: Istanbul Music Festival to launch digitally
Read: Filmed Brecon Baroque festival to be aired in October
Artistic Director of the Beijing Music Festival Shuang Zou says, 'This year, the sudden pandemic outbreak broke our original plan for the festival. Under the forward-looking guidance of the Chairman of the artistic committee, Long Yu, the BMF team responded to the changes with keen and immediate action. This year, the festival presents 240 hours of non-stop, high-quality music including nearly a hundred operas and nearly a thousand classical music works. Coordinating with musicians and artists at home and abroad, we have made a bold attempt to break boundaries. Let music belong to every music lover, and let love be unrestricted.'
In order to allow more audiences to witness the festival, the offline performances during the festival will be broadcast live online via multiple platforms.
For further information visit: bmf.org.cn.