Tim Homfray views a plethora of sonata performances on the BMF live streaming platform (12-14 October 2020)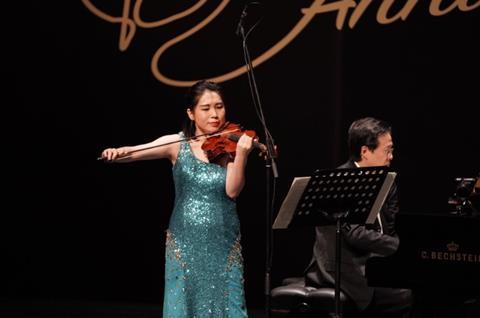 Last October the 23rd Beijing Music Festival contrived both to negotiate round the pandemic and celebrate Beethoven's 250th anniversary with 240 hours of non-stop online and live music making. It included three concerts in which ten up-and-coming violinists each performed one of Beethoven's violin sonatas. I saw and heard them on YouTube, recorded live in front of an occasionally noisy audience. The setting was somewhat sepulchral: a black stage with a black background (save for a golden logo) with a black piano and artists clothed mostly in black. A couple of the ladies' dresses provided the only colour.
The sound wasn't state-of-the-art, but it was an interesting opportunity to compare ten fine artists, most of them prizewinners, back to back. In the first concert (12 October) Xie Haoming with pianist Junhui Chen performed the A major Sonata op.30 no.1 with forthright expression and rich vibrato, and vivid characterisation of the final-movement variations. In the A minor Sonata op.23 Yige Chen with Xin Xin played with an effective balance of delicacy and energy, with just the right amount of wit in the central Andante. Minjia Zhu with Jonie Qiuning Huang was particularly impressive in the G major Sonata op.30 no.3, with great vitality, subtlety and sheer beauty, and happy bravura in the finale. Wendi Wang and Junhui Chen performed the C minor Sonata op.30 no.2 with deft melodic shaping and appropriate drama in the finale.
In the second concert (13 October) Runyin Zhang with Jonie Qiuning Huang produced silky-toned playing, full of personality, in the A major Sonata op.12 no.2, caressing the melodies in the slow movement, happy in the finale. There was fine pacing in the E flat major Sonata op.12 no.3 from Huali Dang and Junhui Chen, whether spacious or vivacious, with graceful languor in the second movement. Of course, someone had to get the great A major 'Kreutzer' Sonata op.47: Paloma So with Junhui Chen played a blinder, in a performance powerful, dramatic and compelling, the slow movement lilting and jaunty, and the finale joyful.
Ming Liu with Shao Lu opened the final concert on 14 October with a stylish account of the D major Sonata op.12 no.1, with some light, dancing moments in the central variation movement. Zhen-Yang Jimmy Yu with Xin Xin gave a delicate, understated performance of the G major Sonata op.96, and deftly melded the many tonal shifts of the finale. Finally, Lin Ruifeng with Shao Lu gave a superb account of the F major 'Spring' Sonata op.24 with beautiful melodic shaping, particularly in the slow movement, and a sparkling, energetic finale.
They were all first-rate, and it is perhaps invidious to single out one; but the 'Kreutzer' was awfully good.
TIM HOMFRAY