The German violinist is one of five recipients of the annually-awarded €130,000 prize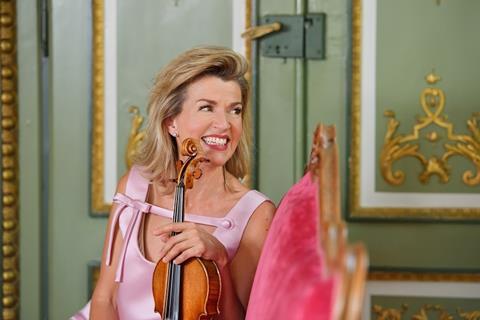 Anne-Sophie Mutter is one of five recipients to receive the 2019 Praemium Imperiale, an annual prize awarded by the Japan Art Association, in the categories of Painting, Sculpture, Architecture, Music and Theatre/Film. The German violinist receives a cash award of 15 million yen (€126,000 or $138,000).
The other four recipients are: South African William Kentridge in the category of painting, British-Palestinian Mona Hatoum for sculpture, the duo of Tod Williams and Billie Tsien from the US for architecture and the Japanese kabuki actor Tamasaburo Bando in the theatre/film category.

In addition to the Praemium Imperiale Awards, the 5 million Yen (c. US$46,000) grant for Young Artists has been awarded to Démos, the musical education programme under Philharmonie de Paris that provides musical education to children between 7 to 12 in underserved localities or rural areas in France.
Established in 1989 at the instigation of the Japanese imperial family, the Praemium Imperiale covers fields of achievement not represented by the Nobel Prizes, with the laureates chosen from a list submitted by six International Advisors to the Japan Art Association. Past laureates include Gidon Kremer, Claudio Abbado, Pierre Boulez, Steve Reich and Hans Werner Henze.
This year's awards ceremony takes place on 16 October 2019.