Leah Hollingsworth hears the performance of Sibelius, Mozart and Thomas Adès at New York's Isaac Stern Auditorium, Carnegie Hall, on 25 April 2023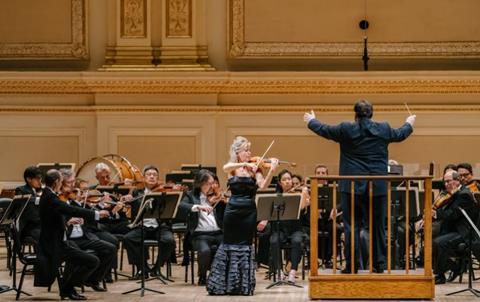 The Boston Symphony Orchestra and its Music Director Andris Nelsons opened their second night at Carnegie Hall with superb clarity and precision in Sibelius's Luonnotar; the muted semiquavers in the strings were utterly captivating, setting the stage for soprano Golda Schultz, who sang with remarkable character, range and control.
Anne-Sophie Mutter (above) took to the stage with grace for Mozart's First Violin Concerto and her playing was immediately refreshing after the dark intensity of the Sibelius. Her reading was characterised by masterful character contrasts and fine execution; the first cadenza was played with confidence and grace, while the double-stops were pristine in intonation and balance. The flautando, non-vibrato opening of the Adagio was brave and striking in effect, demonstrating impressive control.
Also striking was the way she used every millimetre of her bow effortlessly, without unnecessary accents or interruptions to the phrase; again, the second-movement cadenza had tremendous poise. The flying staccato of the Presto brought the work to a brilliant close. After the interval, Mutter returned for the New York premiere of Thomas Adès's Air – Homage to Sibelius, which was written for her. A single-movement passacaglia in form, the ethereal beginning features the marimba, soon joined by the violin, which spends most of its time in the upper stratosphere of the E string. The canon was a simple melody and Mutter played with impeccable intonation and control, grace and poise. While perhaps not Adès at his most memorable, Mutter's performance was nonetheless captivating.
The orchestra closed the programme with a rendition of Sibelius's Fifth Symphony, a performance that dazzled for its precision, energy and characterisation.
LEAH HOLLINGSWORTH