The Austrian based ensemble has joined the roster for management in Switzerland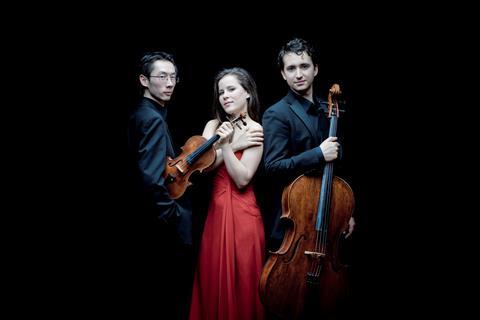 Read more news articles here
Swiss agency Müller & Pavlik artistic management has signed the Amatis Trio. The ensemble, comprising German violinist Lea Hausmann, British cellist Samuel Shepherd, and Dutch pianist Mengjie Han, announced the signing on 14 November via social media.
'We absolutely cannot wait to start working with this wonderful team!' said the trio on Instagram.
The trio was founded in Amsterdam in 2014 and is now based in Salzburg, Austria. It has performed in 43 countries across five continents and has received many accolades, including participation in the BBC Radio 3 New Generation Artists scheme and selection as ECHO Rising Stars (European Concert Hall Organisation) by Elbphilharmonie Hamburg, Köln Philharmonie, Festspielhaus Baden-Baden and Dortmund Konzerthaus. The trio has also received the Kersjesprijs of the Netherlands and the Borletti-Buitoni Trust Fellowship award, as well as prizes at the 2018 Melbourne International Chamber Music Competition, the 2018 International Joseph Haydn Competition in Vienna, the International Joseph Joachim Competition in Weimar, Germany.
In addition to performances in many of the worlds leading festivals including the BBC Proms, Verbier Festival, Switzerland and the Edinburgh International Festival, the trio are regularly invited as soloists in triple concerto repertoire, appearing with orchestras such as the Royal Philharmonic Orchestra, BBC Wales and Frankfurt Museums Orchestra. They are currently artists in residence at Cambridge University and appointees of the Irene R Miller Piano Trio Residency at the University of Toronto, Canada.
The Amatis Trio released their debut CD on AVI Records featuring the music of Enescu, Ravel and Britten.
Both Hausmann and Shepherd perform on fine Jean-Baptiste Vuillaume instruments kindly loaned by generous patrons through the Beares International Violin Society.