All the musicians originally participating in this year's Menuhin competition have committed to the rescheduled date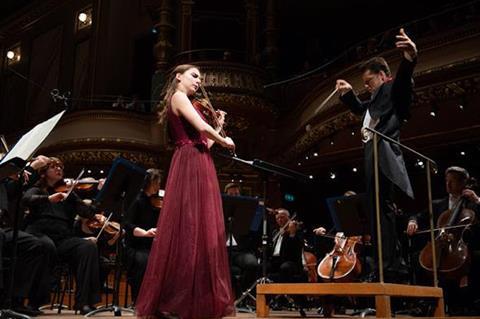 Despite being rescheduled to 2021 as a result of the COVID-19 crisis, the Menuhin Competition will go ahead in Richmond, Virginia (USA) with all 44 of the competitors who had been selected for this year's event. They will be using the same repertoire and will participate in the same division for which they qualified in 2020, even if they age out in the intervening year.
In addition, seven of the nine jurors are planning to remain on the jury for 2021: violinist Pamela Frank (Chair), violinist and conductor Joji Hattori (Vice-Chair), violinist Noah Bendix-Balgley, violinist Ray Chen, violinist and entrepreneur Aaron Dworkin, cellist Ralph Kirshbaum, and violinist Soyoung Yoon. Jurors Ning Feng and Anton Nel are unable to attend, and their spots on the 2021 jury will be filled by American-based Chinese violinist and previous 1st prizewinner of the 2010 Menuhin Competition, Angelo Xiang Yu, and London-based Australian pianist Piers Lane, renowned for his solo and chamber performances and recently appointed Artistic Director of the Sydney International Piano Competition.
'Good things come to those who wait – and we can't wait to host the Menuhin Competition in 2021,' said Richmond Mayor Levar Stoney. 'We're looking forward to showcasing the best of Richmond to the rest of the world by making these extraordinarily talented young violinists feel right at home in the first-class cultural and entertainment centre of Virginia. Richmond and Menuhin in 2021 will make beautiful music together.'
A new nine-episode podcast series entitled Making Menuhin, which introduces listeners to the musicians in next year's competition, is set to launch on 13 May. It will be available at VPM.org/violin and distributed on all major podcast platforms.
In addition, on 14 May at 9pm, the same night that would have been the Opening Gala Concert of the Richmond 2020 Competition, a televised programme entitled A Menuhin Showcase will feature performances from the 2018 Competition Junior Finals in Geneva, Switzerland from Christian Li and Chloe Chua (Junior 1st prize co-winners). Catch it on Virginia's Home for Public Media (VPM) PBS, Facebook and YouTube. The showcase will be available online after the broadcast.