Artistic director Gordon Back praises 'Herculean efforts' of all involved as competition becomes the latest to reschedule due to the Covid-19 pandemic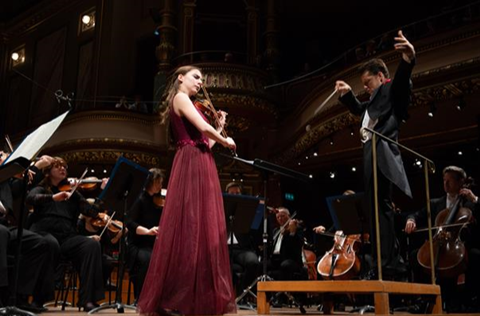 Diana Adamyan, first prize winner of the Menuhin Competition Geneva 2018 Senior Division
The Menuhin Competition Trust and the Richmond Symphony today announced that the Menuhin Competition Richmond 2020, scheduled to take place May 14-24, has been postponed one year to May 13-23, 2021. The decision has been made 'in an effort to mitigate the spread of Covid-19, and in accordance with international and US public health recommendations and restrictions,' the Competition said.
'All of us involved in the Menuhin Competition Richmond 2020 regret the need to postpone the event, but recognize the imperative to avoid any large gatherings until the Covid-19 danger has lifted,' said David Fisk, executive director of the Richmond Symphony, on behalf of the host consortium. 'In the meantime, we hope everyone stays safe and healthy; music can be a source of uplift for all of us during this difficult and uncertain time. We look forward with great anticipation to hosting the Menuhin Competition in 2021, eagerly welcoming 'the Olympics of the Violin' to Richmond next May instead. The city is ready, our partners are ready, and during the coming year, we'll work to make next year's Competition even bigger and better than before.'
A press statement issued by the competition confirmed that all local institutions behind the event have recommitted to hosting the postponed Competition in 2021. Led by the Richmond Symphony, the continuing hosts are the City of Richmond, VPM radio, University of Richmond and Virginia Commonwealth University.
Read: Menuhin Competition receives record number of applications
Watch: Ray Chen plays Paganini in the first round of Menuhin Competition 2008
Watch: 11-year-old Chloe Chua plays Vivaldi's Winter at Menuhin Competition
The 44 competitors selected for the 2020 Competition have been invited to participate in the rescheduled Competition in 2021. The same repertoire will be used, and competitors will participate in the same division for which they qualified in 2020, even if they have aged out in the intervening year. Updated information about the 2021 competitors, jurors and guest artists will be released later this spring.
Gordon Back, artistic director of the Menuhin Competition, said: 'I look forward to welcoming all the competitors, jurors, artists-in-residence and the audience to the Menuhin Competition next May. Despite the worldwide coronavirus crisis causing us to postpone this year's event, we are working hard with our partners, who really have made Herculean efforts to reschedule and ensure the Menuhin Competition Richmond 2021 is the most successful Competition ever! I am positive that it will be a brilliant success, and as Menuhin himself said, "Our young gifted violinists will be the ambassadors of goodwill".'
A podcast, Making Menuhin, about the young competitors, will be broadcast on VPM radio on 13 May 2020 as originally scheduled. Episodes will be available to download 'on all major podcast platforms'
The competition invites anyone wishing to donate, exchange or receive a refund for tickets to visit www.menuhincompetition.org.