The British luthier who produced 50 double basses has died at the age of 87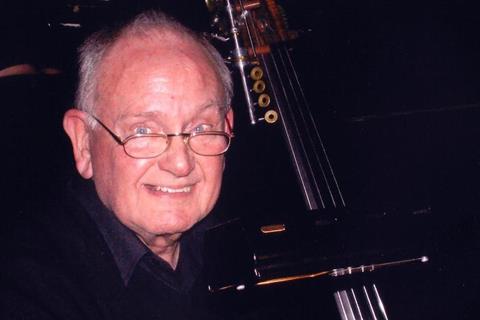 The British luthier Ron Prentice, who specialised in making double basses, has died. He was 87.
Born in London in 1932, Prentice first developed his love of making things in a blacksmith's workshop, while evacuated during the Second World War - a passion that rewarded him immediately after the war, when he won contests for building his own model aircraft.
An asthma sufferer, he switched from the trumpet to the double bass, initially teaching himself, before going on to study with the double bassist Art Learner.
He started his musical career as a bass guitarist and double bassist, playing on records by artists such as Dusty Springfield and Cilla Black, as well as several James Bond soundtracks.
But, after studying a book entitled 'Making a Folk Guitar,' and proceeding to make his own, he developed a new passion. Opening a shop in Enfield, Middlesex, he devoted himself to making and restoring instruments and selling accessories. His first instruments were mainly viols, but when his work found particular favour with players in London orchestras, he began to make more modern instruments.
In between work commitments, he devoted four years to private, part-time study in Germany with the luthier Karl Roy, who was appointed director of the Mittenwald School of Violin Making in 1972. Then, as his lutherie career began to grow, Prentice gave up his work as a practising musician, and moved to a water mill in Ash Priors, Somerset, where he concentrated solely on making.
Throughout the 1960s and 70s, Prentice built up a reputation as a maker of fine quality basses, and regularly had a two-year waiting list for orders. He produced 50 double basses altogether, constructing them from Sitka spruce and maple from Germany, as well as flamed sycamore that he sourced in both England and Scotland. All the instruments were crafted using an interior mould and finished with a variety of varnishes, which were made to recipes originally used at Mittenwald by Karl Roy.
In 1978, Prentice was featured in 'The Violin Makers - Portrait of a Living Craft', a book by Mary Anne Alburger about professional violin makers in Britain. Prentice himself wrote a book about his life entitled 'Making Music', which, in addition to details about his instrument making, describes how he made a new water wheel for his home. He had an enthusiasm for classical music, and as Chair of the West of England Delius Society, was particularly knowledgeable about the English composer.
Prentice retired from making in 1998. He is survived by his wife Brenda.