Organisation plans to establish a fully-equipped workshop in the city of Blantyre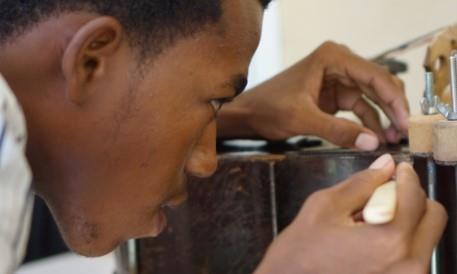 Luthiers sans Frontieres UK will visit Malawi in southeastern Africa for two weeks this February, to provide tools and training to local trainees at a workshop in the city of Blantyre. It is LSF UK's 17th overseas mission since its founding in 2008.
Volunteer luthiers Sarah Beaton, who studied at the Newark School of Violin Making and has a workshop in Surrey, and Robert Cain, a lecturer at the Newark School and LSF UK's project developer, will teach instrument repair at a workship in southern Malawi city during their stay. They plan to leave the studio equipped with the tools, bow hair, bridges, strings and other parts to service the local instruments 'for some time,' Cain said.
'We are very excited at the prospect of working in Malawi,' he continued. 'Currently, there is no-one locally with the knowledge to repair the instruments and bows. We have developed some very effective training methods and can get amazing results in the short time we are on the ground. It's exhausting but incredibly rewarding.
'Many of the things taken on missions are recycled from workshops in the UK and abroad. We collect old strings, pegs, bridges etc. and where possible, re-use them. Strings are unaffordable in countries like Malawi but discarded strings often have some useful life left in them. We collect them, check them over, repackage them and off they go.'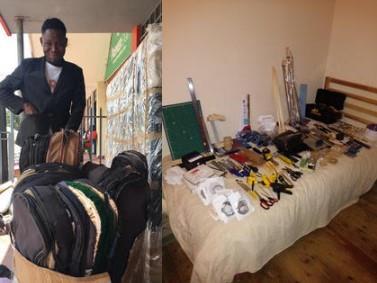 The photographs (left) show LSF UK trainee Alex with kit ready for packing, and a collection of instruments newly arrived from Mzuzu, 600km north of Blantyre, ready for the LSF training workshop.
Since its foundation LSF-UK has completed training missions in Haiti, Uganda, Ecuador, Afghanistan and the Philippines. The charity is run entirely by volunteers who also raise funds for equipment and air fares.
LSF UK's parent organisation, Luthiers sans Frontiers LSF is a small international charity founded in Belgium in 2001. It began with a violin repair project run by two violin makers in schools in Havana, Cuba.
To make a donation, whether financial or in tools/supplies, visit www.luthierssansfrontieres-lsf.org or contact Robert Cain direct on (+44) 07837 845 044.