In this article from the February 2005 issue of The Strad, John Dilworth looks at the history of the 1734 'Spagnoletti' Guarneri 'del Gesù' violin, which, unusually, can be traced all the way back to its Cremonese origins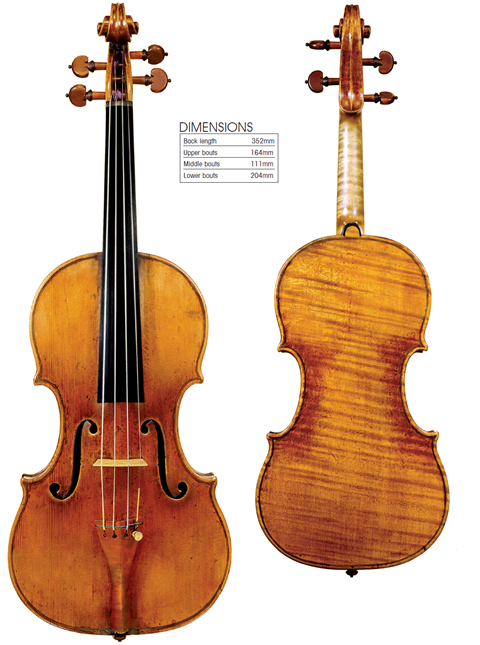 Piecing together the history of a violin is not an easy task. A master instrument that can be traced back to its birthplace in Cremona is unusual: even rarer if it's a 'del Gesù'.
The nickname of the 'Spagnoletti' Guarneri gives a clue to its colourful history. Lo Spagnoletto – the little Spaniard – was a popular Italian round dance and the nickname of Francesco Diana, leader of the Cremona Opera Orchestra. He was born in Cremona in 1720, the son of a barber who lived near the Guarneri workshop. Mozart wrote to his sister, Nannerl, in 1770: 'In Cremona [the orchestra] is good. The first violin is called Spagnoletto.'
Francesco's son Paolo also became a first-rate player. He moved to England, where he joined King George III's orchestra. Paganini insisted on having 'Spagnoletti' as leader of all his 1832 concerts. Paolo died two years later and the first written record of his violin appeared. The Betts Notebook, which records many of the great instruments that passed through the London firm of Betts in 1820–35, lists a red violin with the comment: 'Genl. Kyd made a preasant [sic] to Spagnoletti.' General Kyd was a wealthy amateur musician who collected instruments on his trips to Italy.
The violin's present owner speculates that it originally belonged to Paolo's father, Francesco, and Kyd recovered it from Cremona as a gift for his famous son. It remained Paolo's favourite instrument, even though he also owned a 1682 grand-pattern Nicolò Amati. From Spagnoletti the violin passed to Howard Elphinstone, then via George Hart to another dilettante, Emanuel Mohr, before it again reached one of the better players of the time, John Payne. In 1940, J.& A. Beare passed it to A.J. de Reyghere. By 1954 it was in the US, where it went through the Moennig and Wurlitzer shops. It is now safely in the hands of an Illinois musician, Elliott Golub.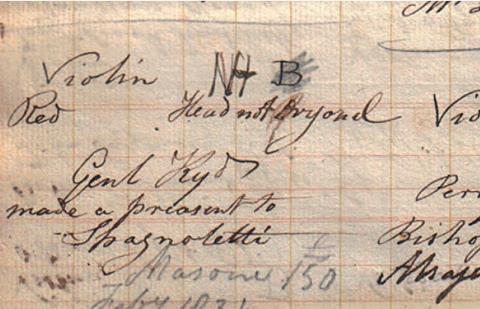 The violin was made in 1734 and is a typical example of a mid-period 'del Gesù', with a fine one-piece back of broad, flamed maple. Like others of this date, it is slightly shy in overall measurements, owing to a very narrow edge overhang. The workmanship is steadier than in later examples, and the trim outline and broadly cut f-holes give it a very attractive appearance. 'Head not original,' John Betts noted in 1834. In fact it probably is original, made by Giuseppe 'filius Andrea', who provided the heads for most of his son's violins in this period. The varnish has not stood up well to orchestral life and has had its fair share of retouching, but the violin retains a glorious orange–red colour, which was the first thing Betts remarked on 170 years ago.