Violist Rosalind Ventris shares her experience of the transformative power of playing chamber music, and discusses its importance for the professional and personal development of every young musician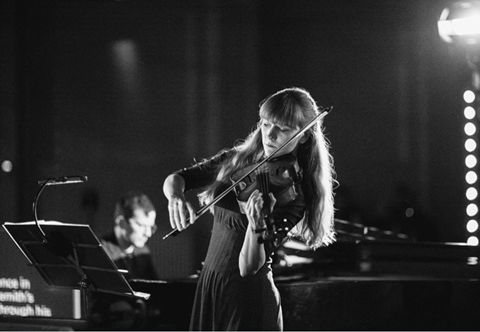 Discover more Featured Stories like this in The Strad Playing Hub
Read more premium content for subscribers here
When I was about 16 years old, I played the slow movement of Beethoven's String Quartet in E minor op.59 no.2 in a chamber concert. Feeling totally in awe of this music, I kept thinking: 'I want to do this for the rest of my life.' But it was also more than this. It felt like a rare moment of total clarity: after the rewarding process of rehearsals and coaching, in the performance I felt, 'This is what I love and where I want to be.'
I will be absolutely honest: I did not love practising as a child, but as soon as I could play with other people, I was hooked. I discovered how much fun it was to share ideas about music, and the satisfaction of unpicking the tricky bits and stitching them back together again. Then there was the music itself – the delight of delving into that slow Beethoven quartet movement, or the excitement and emotion of playing a deeply personal work like Shostakovich's String Quartet no.8 for the first time.
As I grew older, it became even more satisfying to have greater agency in group decision-making. I learnt more from my peers and professional colleagues – how to lead, how to breathe, how to come out of the texture, how to play a supporting role, how to match bow distribution and articulation, and so on. I saw the need to develop my solo playing in order to sing out solo lines and have all the necessary technical skills to match my colleagues, and my musicianship developed from playing with others.
Today, I play a mixture of solo and chamber music concerts, direct a music festival and teach at the University of Oxford and the Guildhall School of Music and Drama, London.
Working intensively on chamber music develops communication and listening skills like nothing else. Not only do you have to listen to your own sound and improve upon it as necessary, but you need to do this with a full awareness of what everyone else is doing around you. Playing chamber music necessitates taking personal responsibility to come properly prepared. With one player to a part, each musician needs to be fully committed to their role and be aware of its nuances.
Chamber music develops communication and listening skills like nothing else
In concert, different acoustics, nerves and other variables come into the mix, to which each person might respond differently. Communication is key in navigating these scenarios. Working together in a small group means that you have to be open to seeing something another way and trying it out, even if you disagree, and there needs to be a consensus if opinions still conflict. This can be very challenging musically and personally, but it is vital to developing as a musician and an artist to keep an open mind and learn how to work with others.
On paper, this all sounds very worthy, but the whole beauty of chamber music is that it doesn't have to be so serious. When I am working with my wonderful colleagues in the Kaleidoscope Chamber Collective or Trio Anima, exploring music together in this way never feels onerous. We are always trying to get to the heart of what the music is about, tell a story and connect with our audience; and spending time together outside music making helps strengthen that bond.
At the Cowbridge Music Festival (cowbridgemusicfestival.co.uk), of which I am co-artistic director, we will be relaunching our chamber music seminar in 2023, showcasing young artists at the start of their careers alongside more seasoned professionals in the festival. For me, the stimulation, rigour and inspiration that I received through chamber music in the early stages of my development formed the bedrock of my playing and teaching. I hope that this will be an opportunity to give the same to the next generation of musicians.
This article was published in the December 2022 1693 Antonio Stradivari 'Harrison' violin issue.

A prime example of the master luthier's 'Long Pattern', it used to be the principal performing instrument of Kyung Wha Chung. Andrew Dipper takes a closer look at the violin. Explore all the articles in this issue

More from this issue…