Choosing the repertoire for your first album isn't easy. Charlotte Gardner talks to those in the recording business about how to make an informed decision.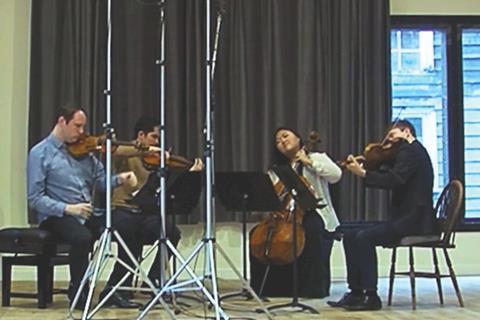 This is an extract of a longer article in The Strad's October 2018 issue. To read in full, download the magazine now on desktop computer or via the The Strad App, or buy the print edition
If making an audio recording feels like the right step, consider the following: 'If it's a self-release, there's no point doing it until you have a good string of concerts coming up, because that's where audiences tend to buy CDs by young artists,' says City Music Foundation artist manager Tabitha McGrath. Plus, according to HarrisonParrott director Lydia Connolly, you should 'Record only if you really have something to say with that repertoire. Ideally, your recorded statement should be part of a larger strategy.'
Enter here the Calidore Quartet, recent graduates of the BBC New Generation Artists scheme, whose debut Signum Classics album, Resilience, was released last October. The group now has four recordings under its belt, the first of which was made in 2014 at the Colburn School in Los Angeles, where the players studied.
'We felt that in terms of creating a professional persona it was absolutely essential to come out with our first album,' says the group's cellist Estelle Choi. 'It was really a calling card to be able to show people in those early stages that, yes, we are staying together and are a professional string quartet. The pieces we chose – Haydn's op.76 no.3 (the "Emperor") and Mendelssohn's Second Quartet, op.13 – were very familiar to us and really spoke to who we were.
We then did a big release concert in LA, where we invited our friends and family, promoters and other people in the industry. After that, we sold the disc at further concerts – and it was great to have something to send to promoters, to show that we were serious about what we were doing.'
Should all young artists take a leaf from the Calidore's book and record well-seasoned music? According to Decca Classics managing director Alexander Buhr, it depends on the artist. 'There are no social dos and don'ts. Instead, you should be playing to your strengths and looking at the competition. If, for example, you're a dynamic Baroque-music player who's good at Vivaldi, then doing the Four Seasons with orchestra is probably an amazing calling card.
However, if this is repertoire that you can play but does not necessarily show you at your most exciting, then I wouldn't lead with it. Chamber music and solo repertoire often have the upside that they're a bit more flexible. For a calling card, it might be beneficial to showcase different aspects of your musical personality and playing.'
This is an extract of a longer article in The Strad's October 2018 issue. To read in full, download the magazine now on desktop computer or via the The Strad App, or buy the print edition