The violinist led the LSO for two periods, between 1965 and 1979, before turning to conducting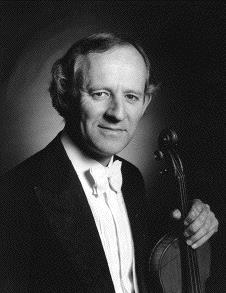 The British violinist and conductor John Georgiadis has died at the age of 81. As a violinist he is best remembered as the concertmaster of the London Symphony Orchestra (LSO) from 1965 to 1973, and then from 1976 to 1979. He then became a successful conductor, working with orchestras around the world including three years as music director of the Bangkok Symphony Orchestra.
Born in 1939 in Essex, Georgiadis began playing the violin aged six. He studied with local teacher Vanna Brown before entering London's Royal Academy of Music, studying with Frederick Grinke. He also spent a year with René Benedetti in Paris. His first appointment as concertmaster was with the City of Birmingham Symphony Orchestra, from 1963 to 1965, when he left to take up the same position at the LSO. Highlights from this period included giving the first English performance of the Menotti Violin Concerto, and the first London performance of the Bartok Violin Concerto No. 1. In January 1976 he recorded the Bliss Concerto with the BBC Symphony Orchestra, in the presence of the composer. In 1972 the London Virtuosi Chamber Ensemble was founded, with Georgiadis as its original concertmaster.
While at the LSO Georgiadis had the chance to observe the methods of many of the world's greatest conductors; as he told The Strad in 2012: 'I always got on well with the better conductors and couldn't do enough to help them. Names that spring to mind in this respect include Beecham, Fricsay, Barbirolli, Kertész, Szell, Ormandy, Abbado, Boult, Sargent and, of course, my mentor Celibidache. They all combined in their very different ways the essential qualities of sincerity, musicality, technique and how to deal with a large group of expert musicians.'
During his three-year hiatus from the concertmaster's chair, Georgiadis began conducting himself, starting with youth orchestras and education work with the Royal Liverpool Philharmonic Orchestra. He spent eight years learning the art of conducting under Sergiu Celibidache. This led to a second career touring the world as a conductor. Apart from the London Virtuosi, his first position as music director was with the Bristol Sinfonia, from 1982 to 1984. In 1992 he was approached by the Bangkok Symphony, which he led from 1994 to 1996. He was also a regular guest conductor of the Malaysian Philharmonic, an orchestra he helped set up when travelling the world as an auditioner in the late 1990s.
Read: John Georgiadis on how to be a good orchestral concertmaster
Read: review of John Georgiadis' autobiography Bow to Baton: A Leader's Life
Read: John Georgiadis and others reflect on retiring from string playing
From 1988 to 1999 Georgiadis toured in a recital duo with pianist Antony Peebles. However, he retired from professional playing in the early 2000s after unexpectedly losing his nerve. 'I was doing a session, sitting in the leader's seat and feeling quite comfortable, when I turned the page and it said "solo",' he told The Strad in 2020. 'It was only a few short notes, but I froze and I had to leave the studio. It shook me to my core because I'd never felt anything like that before. Suddenly, it was as though the whole world had been taken from under my feet. After that, thank God I discovered beta-blockers. They got rid of that great terror, that panic, and they helped me to play for a few more years.' He retired from the violin in 2010, to concentrate solely on conducting.
His autobiography, Bow to Baton: A Leader's Life, was published in 2019. Georgiadis received an honorary doctorate from the University of Essex in 1990. For eleven years from 1982, he was principal conductor of the Essex Youth Orchestra, and from 1987 to 1990 was first violinist of the Gabrieli Quartet, which had a long association with the university.
Video: Footage of a rehearsal of Ravel's String Quartet by the Gabrieli Quartet while in Melbourne on their 1998 Australian tour.