27 violinists from around the world are in with a chance of winning prizes worth a total of $110,000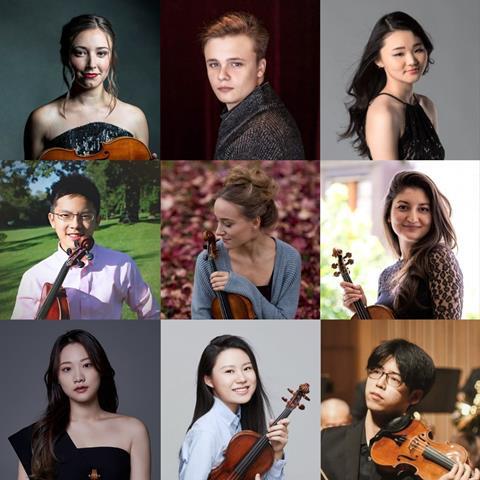 Read more news articles here
The Singapore International Violin Competition has announced the 27 competitors taking part in the 2022 competition. Twelve countries are represented with five from Japan, four from both China and South Korea, three from the United States, two from Chinese Taipai, Ukraine, Germany, and the rest from Latvia, Singapore, Hong Kong, Denmark, and Switzerland.
The competition, held at the Yong Siew Toh Conservatory of Music, will begin on 1 December concluding with the finale on 12 December.
The 27 violinists are:
Claire Bourg (United States)
Daniil Bulayev (Latvia)
Angela Sin Ying Chan (Hong Kong SAR)
ChinaI-Hao Cheng (Chinese Taipei)
Anna Agafia Egholm (Denmark)
Amia Janicki (Switzerland)
Jueun Jeong (South Korea)
Yiying Jiang (China)
Haram Kim (South Korea)
Joey Lau (Singapore)
Eunseo Lee (South Korea)
William Lee (Chinese Taipei)
Ruifeng Lin (China)
Tianyou Ma (China)
Nathan Meltzer (United States)
Elias David Moncado (Germany)
Georgii Moroz (Ukraine)
Yukari Ohno (Japan)
Tassilo Probst (Germany)
Tomotaka Seki (Japan)
Dmytro Udovychenko (Ukraine)
Yukiko Uno (Japan)
Eimi Wakui (Japan)
Sara Watanabe (Japan)
Christine Wu (United States)
Jinyoung Yoon (South Korea)
Siqi Yu (China)
Alongside a prize fund worth $110,000, winners of the competition will receive fine violins from the Ren Collection on loan for three years. The collection includes the 1680 'Ex D'Annunzio-Baccara' Stradivari, a 1719 Tononi, a 1721 Montagnana, a 1753 Guadagnini, a 1793 Storioni and an 1840 Pressenda. The winners will perform with various orchestras as part of the prize including the Royal Bangkok Symphony Orchestra, Shenzhen Symphony Orchestra and the London Philharmonic Orchestra. The competition also awards five additional special prizes to contestants.
The first round, spanning over five days will hear all the contestants perform complete sonatas by Bach, Ysaÿe and Beethoven as well as a work by Kreisler and a piece of their own choice. The semi-finals on 8 and 9 December will hear candidates play a recital of up to 60 minutes with various prescribed repertoire including the Kris Foundation's commissioned work: Before Daybreak《孤燈挑盡》, composed by Koh Cheng Jin.
Previous winners of the competition include Tseng Yu-Chien and Sergei Dogadin.