This year's contest, celebrating the centenary of its famous namesake, takes place in London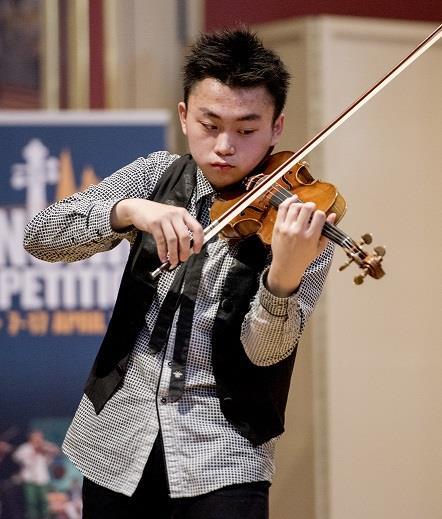 Ziyu He has been named the winner of the Menuhin Competition 2016 Senior Division, following a Final held at London's Royal Festival Hall this evening.
Four Finalists, whittled down from 22 violinists aged between 16 and 21 over two previous live rounds, performed a concerto with the Royal Academy of Music Symphony Orchestra conducted by Christopher Warren-Green.
16-year-old Ziyu He from China receives a first prize of £10,000, plus the one-year loan of the Stradivari 'Schneiderhan' violin, 1715 through J&A Beare's International Violin Society.
Second prize. worth £7,500, goes to 16-year-old SongHa Choi from South Korea, while third prize, worth £5,000 goes to 20-year-old Yu-Ting Chen from Taiwan. 20-year-old Jeein Kim receives fourth prize, worth £3,000.
SongHa Choi receives the £500 audience prize.
The Menuhin Competition Junior Division was won on Friday night by 12-year-old Yesong Sophie Lee.
The biennial Menuhin Competition, this year marking Menuhin's 100th anniversary, takes place from 7-17 April in London. The 2016 jury comprises former laureates Julia Fischer, Ray Chen, Tasmin Little, Ning Feng and Joji Hattori, in addition to pianist Jeremy Menuhin, Korean violinist Dong-Suk Kang, director of the Verbier Festival Martin Engstroem and jury chair Pamela Frank.
The 2014 Menuhin Competition Senior Division was won by Stephen Waarts, while Rennosuke Fukuda triumphed in the Junior Division.
Visit the Menuhin Competition website for full details.
Read: Menuhin Competition 2016 reveals four Senior Finalists
Read: Menuhin Competition 2016 names 44 shortlisted violinists in a list dominated by females