Caroline Emery reviews David Allen Moore's innovative method for learning the double bass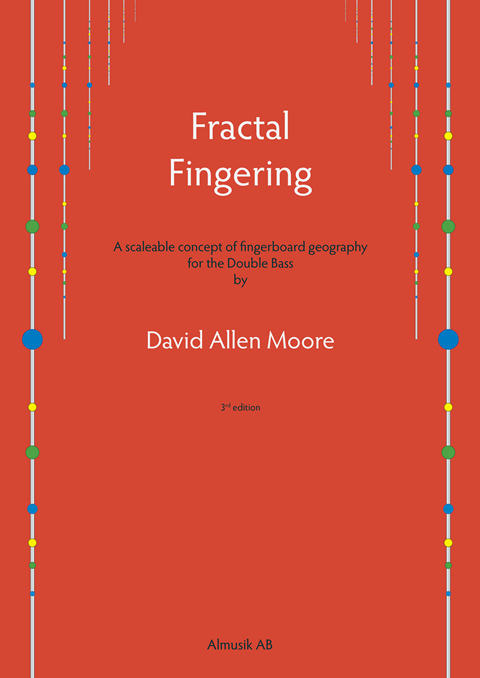 Fractal Fingering: A scaleable concept of finger geometry for the double bass
David Allen Moore
68PP ISBN 9789163945359
Almusik AB €30
I feel privileged to be able to write this review as I feel close to the work done by David Allen Moore, who has made enormous efforts to produce this remarkable volume. The list of amazing teachers and players he thanks reads like a who's who of modern bass playing. Moore has taught on courses that I run on several occasions, and has blown everyone's minds with the concepts presented in this book. Jan Alm published the volume and his eye for clarity means the ideas are beautifully presented.
Before developing his 'fractal fingering' system, Moore studied all the notable methods available. He also spent time pondering the unique playing style of Edgar Meyer, who performed with noticeably different fingerings that seemed not to be influenced by Simandl, Nanny, Billè, Petracchi or Rabbath. Moore then began to work out a language that allows the player to organise information from any method.
In Moore's introduction he states: 'The fractional approach models the organisation of the fingerboard into layered hierarchical levels of increasing complexity.' He also talks about providing the player with a 'grammar' for technique that can be used to construct a fingering, to make it expansive, economical, appropriate, or even just easier and reliable. The concept of 'scaleable self-similarity' is one that may be less familiar to many bassists. The idea of dividing up the open strings into certain equal measurements which create the same harmonic pitch is well known. Taking this idea several steps further shows that the intervals contained between those harmonics are the same distance apart. The volume begins with a guide to understanding the 'nodes', and develops into wonderfully clear exercises such as expansions, fan expansions, frames and forms. The frames are carefully explained and then expanded into double string templates and the remarkable arpeggio template.
Moore has constructed definitions and a language to help explain his ideas. I have found it fascinating to couple his written examples and explanations with him actually demonstrating them in the online Discover Double Bass series. Some of my favourite exercises, which really are unique, are the fan expansions where your hand position is stable but your fingers, and thus hand shape, expand, giving you far more possibilities than normal. Rabbath also does this, but Fractal Fingering gives this expansion a context that explains the structure and thought behind the choices made. The forms are also very helpful and the exercises augment and build on the muscle memory learnt from the 'node' exercises. I could go on but I would truly recommend reading this book and seeing for yourself.
CAROLINE EMERY