The 23-year-old Russian cellist has just won the Sommets Musicaux de Gstaad's invitation-only competition, the prize of which includes a recording with orchestra. She talks to Charlotte Gardner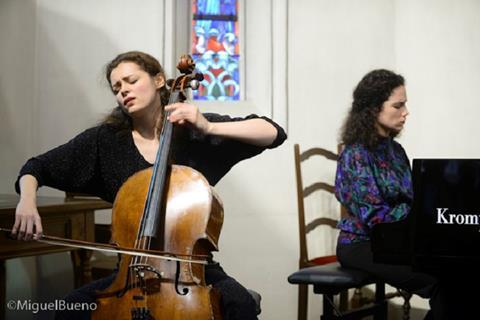 Russian cellist Anastasia Kobekina, 23, has just been announced as winner of the Prix Thierry Scherz at the Swiss winter music festival, Sommets musicaux de Gstaad: an invitation-only recital-series-cum-competition which each year invites eight young artists of the same instrument to perform, and then offers one the opportunity to make a recording with orchestra on the Swiss record label Claves.
Kobekina also picked up the festival's other prize, the Prix André Hoffmann, which is awarded for the best interpretation of the specially-commissioned new work from the festival's composer-in-residence, who this year was Benjamin Attahir. This was the first time in the festival's history that both prizes have been awarded to the same young artist.
Charlotte Gardner: Firstly, congratulations on your win
Anastasia Kobekina: Thanks! To be able to record a CD with an orchestra is an incredible opportunity. It so happens that a year ago I was trying to get the financial support for just such a project, but it didn't work out. I believe everything comes at the right moment, and sometimes one just has to wait for this right moment to come. So today I'm really grateful.
CG: How much were you thinking of the possibility of winning it when you went to play?
AK: Well I definitely tried to prepare in advance, but as much as anything else because it was a wonderful opportunity to play at such a famous festival. Somehow, because the competition is presented as a recital series – just one concert a day rather than each artist playing immediately after each other – it didn't have the pressure of a normal competition. It was simply like playing a concert.
CG: Congratulations are also in order for your winning the Prix André Hoffmann for the best interpretation of the new work for cello and piano by the festival's composer-in-residence Benjamin Attahir, Après L'ineffable, which you were required to prepare for your recital alongside the works of your own choosing [Stravinsky's Suite Italienne, Schumann's 3 Fantasiestücke and Franck's Violin Sonata]. It's a really challenging piece too: Arabic-influenced in style, and requiring quarter tones, vibrato trills, low-register harmonics, and a whole host of other unusual sounds. Plus it was only sent to everyone at the start of January! Your performance of it was stunning. How did you prepare it?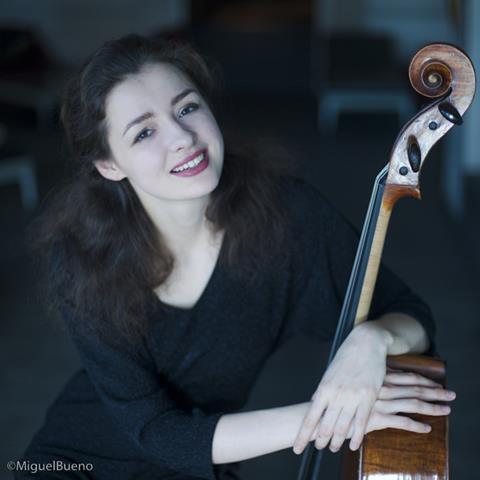 AK: I was quite cautious in my expectations for it, because lately I haven't had much luck with the contemporary pieces I've had to learn for competitions. However, my French accompanist Paloma Kouider knows Benjamin's music, and she had told me that she was sure it was going to be a fantastic piece. Then when we received it she travelled from Paris where she lives, to Berlin where I live, for us to spend two days working together on it. It's a difficult work to put together in your head. The language is special and unusual, and as you say technically challenging with its requirements for different combinations of different cello techniques. So I actually decided to learn it by heart, and I succeeded too, although in a slower tempo, which was very useful and interesting to me. When you're memorising things you're obliged to find the structure: how the repeats are built, what are the repetitive moments, and how they develop.
CG: Going right back to square one now, how did you come to be a cellist in the first place?
AK: My parents are musicians. My dad is a composer and my mum is a piano teacher. I began on the piano myself aged three, but they didn't want me to be a pianist, or indeed a violinist, because they thought there would be too much competition. Hence the cello!
CG: You were the only Russian cellist of the eight young artists performing at Sommets this year. What is the Russian training and how do you think you benefitted from it?
AK: Well I'm not sure that I'm a typical Russian cellist. For me the Russian sound is a bit like a Russian kitchen, in that it's very fat, it's rich, it's big; and I'm not sure that I'm playing or aiming for this most of the time. However the level of education you receive until you're 15 or 17 in Russia is very strong. There are about seven music specialist schools in the country, and in these you get two lessons per week on your instrument, plus piano, solfège, theory, choir. This is all normal for many children, too. So I went to the one in Ekaterinburg, then I studied in Moscow, and then I went to Kronberg Academy where I studied for four years with Frans Helmerson; and now I'm studying in the class of Jens Peter Maintz in Berlin.
CG: Who would you say the main figures in your development have been?
AK: Well of course Helmerson. Also David Geringas because I've taken many masterclasses with him; he has an incredible mind and is also very supportive and makes you believe in yourself. I'm also taking some inspiring lessons at the moment with Jérôme Pernoo in Paris, who is an incredible figure, and someone I'm sure will be leading me hopefully not just for the next couple of years but further into the future.
CG: You're also a keen chamber player. Can you tell me about that?
AK: I must say that sometimes I think it's more enjoyable to play chamber music than it is to be a soloist with orchestra, because you learn so much from playing with great chamber partners. I've been very lucky to play with some great musicians too. András Schiff, Gidon Kremer, Lars Vogt and Guy Braunstein for example. In fact this is the reason why I enter competitions: to get myself up at the level at which I'm able to play chamber music with the great masters.
CG: Indeed, competitions! You won the TONALi Competition in 2015, and were a semi-finalist at the Tchaikovsky Competition. The following year you came second at the George Enescu Competition. Is that now enough? Are you through with entering them?
AK: Maybe and maybe not! What I can say is that I'll stop the moment I realise I'm at the level at which I can play with the artists or the orchestras I want to play with. Otherwise there's no point to competitions. A competition is just a tool.
CG: Tell me about your cello. It's a 1743 Guadagnini?
AK: Yes. I received it as a result of winning the TONALi competition, and while I've also played modern instruments and couldn't say that one is better than the other, this Guadagnini is a wonderful, special instrument. At the beginning it was quite challenging to get to know it, because as with every old instrument it has a strong character. Now though, the warmth of it, and the sound possibilities it offers are very inspiring. You can make one colour very tender, another more direct, and when the instrument itself is so rich you start to listen more precisely to yourself.
CG: What have you got coming up that you're looking forward to?
AK: One real highlight of 2018 for me will be in October, at the Cello Biennale in Amsterdam, when I will play with Giovanni Sollima the duo concerto he wrote for himself and Yo-Yo Ma. That's with the Netherlands Philharmonic.