In a special tribute to Ida Haendel, we are re-publishing content related to the late violinist. Here, in our March 1937 issue, our correspondent predicts great things for a 14-year-old violinist who may have actually only been 9 at the time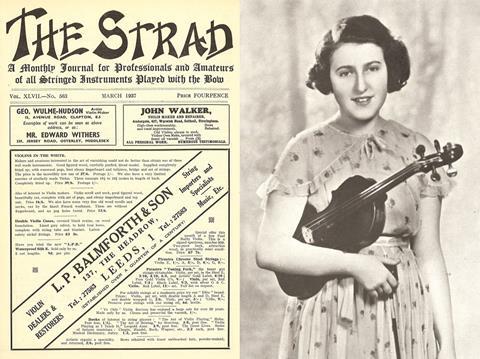 The writer here draws attention to Haendel's age being a matter of dispute due to her being possibly too young to legally perform. That hasn't completely cleared up over 80 years later, with sources variously giving her birth year as 1923 or 1924 or 1928, and a number of notices regarding her 90th birthday in December last year.
The picture above is as published in the Strad in March 1937, and a reader has pointed out that it looks more like a 14- than a 9-year-old. Then again, in 2014 Haendel told The Strad that she was 9 for her September 1938 performance of the Brahms concerto at the Proms, and presumably she no longer fears the strictures of the pre-war London County Council.
From Poland, the homeland of many celebrated musicians, we welcome a young lady who bids fair to add her name to its scroll of great artists. It is perhaps rather unwise to prophesy when the subject of the prediction is just fourteen but there is little reason to doubt that Ida Haendel is destined for the front rank of her profession, and may in fact become one of the outstanding women violinists of her generation.
She commenced to play the violin at the age of three and a half but did not receive any serious tuition until she was six. Her first teacher was Mihailowisch of the Warsaw Conservatoire, and subsequently she received occasional lessons from three pupils of Carl Flesch, Goldberg, Frankel and Totenberg, whenever they happened to visit Warsaw.
In January, 1935, her father took her to Paris, where at that time Professor Flesch was holding a master course, as it was her parents' greatest ambition for their little daughter to study with this famous master, from whose pupils she had already gained so much. No time was lost in bringing her to the notice of the Professor who at once detected her unusual talent and accepted her as his pupil.
Ida Haendel followed Carl Flesch to Baden-Baden in October of the same year and here he coached her for the violin competition that was shortly to be held at Warsaw. As a result of this brief course of study she was successful and her playing caused something of a sensation. She then crossed to England for further tuition with Carl Flesch—who had now made London his permanent home—and after a year of intensive coaching she was considered by her master ready for her London debut.
This was at first planned to take place at an orchestral concert on December 13th last year which was conducted by Sir Thomas Beecham, but at the last moment the engagement had to be cancelled as the London County Council refused its permit for her to play as she was not yet fourteen. This fact is rather important as it sets an official seal to her age, a point which the writer has heard disputed, with quite good reason, as there have been a number of instances in the past where those interested in the welfare of prodigies have not been above juggling with their ages.
In conclusion the question arises will this promising young artist stay the course. Taking everything into consideration it seems safe to say that she will. Under the guidance of such an experienced mentor as Carl Flesch she should be able to avoid the many pitfalls that beset a young artist. She does not strike an observer as one whom early success will easily spoil. Ida Haendel is definitely something outstanding even in this age of prodigies.