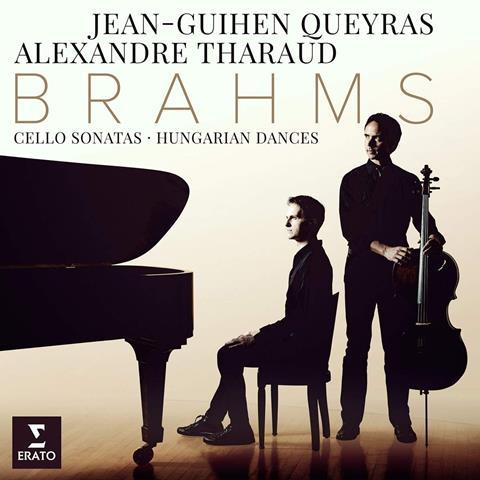 The Strad Issue: November 2018
Description: Brahms takes flight in these light-as-air interpretations
Musicians: ean-Guihen Queyras (cello), Alexandre Tharaud (piano)
Works: BRAHMS Cello Sonatas: no.1 in E minor op.38, no.2 in F major op.99; Hungarian Dances: Book 1 no.1 in G minor, no.4 in G minor, no.5 in F sharp minor; Book 2 no.7 in A major, no.11 in D minor, no.14 in D minor
Catalogue Number: Erato 0190295723934
Never have I heard Brahms's E minor Sonata sound more calm and unruffled than in this performance by Queyras and Tharaud. Beauty of sound is paramount in their interpretation, all the more effective in this close and well-balanced recording. The opening theme, rather than wallowing in the depths of the C string, takes on a more questioning, sensitive character, rising to a thin, pure line when the theme transfers to the A string.
One is constantly aware of the long, overarching phrases and, although the fortes and accents are observed, the beautiful tranquillity at the end of the movement has never been too far away.
After a slightly careful Quasi minuetto and an elegantly flowing Trio, the fugal finale is more neat than rugged in Queyras' hands, the fortissimos on his c.1696 Cappa cello (see page 97) big but never huge.
The F major Sonata boasts an extra movement, the Adagio affettuoso, exquisitely played here with very light vibrato, and an endlessly long final note disappearing into nothingness. The shimmering suppressed energy of the first movement and the feeling of urgency in the Scherzo make for an exciting interpretation.
The players' idiomatic arrangements of six of Brahms's Hungarian Dances are a total delight, played with freedom and virtuosity, spirit and infectious enjoyment.
JANET BANKS