RAI National Symphony Orchestra concertmaster and prolific concerto soloist with admirers including Karajan, Barbirolli and Sawallisch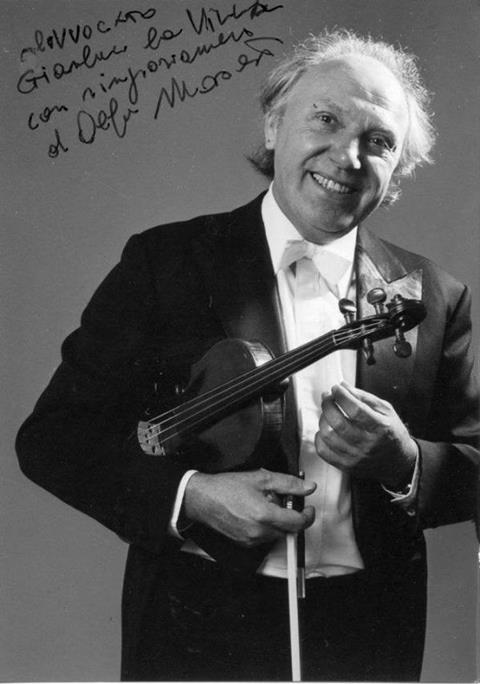 Italian violinist Alfonso Mosesti, former concertmaster of the Turin-based RAI National Symphony Orchestra, died on 6 April at the age of 94.
He was born on 18 April 1924 in Rivignano in the Province of Udine in northern Italy, and studied with conductor, violinist and pedagogue Cesare Barison, himself a favourite pupil of Otakar Ševčík in Prague.
After the second world war, Herbert von Karajan chose Mosesti as concertmaster for the Verdi Orchestra in Trieste, where he premiered Antonio Illersberg's Violin Concerto. He went on to further studies with Giuseppe Prencipe and George Enescu at the Accademia Chigiana in Siena. In 1954 he entered the RAI Symphony Orchestra as concertmaster, first in Rome (where he played in a quartet with Lorin Maazel), then in Naples (as the Alessandro Scarlatti Orchestra) and finally in Turin (until the 1990s).
He was often concerto soloist with the orchestra, and partnered David Oistrakh in the Bach double and Henryk Szeryng in the Vivaldi double. In 1977 he was chosen to premiere a newly discovered Pugnani concerto.
Sergiu Celibidache was known to insist that Mosesti was in the concertmaster's chair for his frequent appearances in Turin, while many other conductors held him in high esteem, including Abbado, Barbirolli, Dobrowen, Ferrara, Maag, Maderna, Masur, Muti, and Sawallisch.
He also made his mark in chamber music, particularly the piano quartet repertoire, being a long-term member of the Quartetto di Torino, with Carlo Pozzi, viola, Giuseppe Petrini, cello, and pianist Luciano Giarbella. The ensemble performed internationally and made a number of celebrated recordings, including the first ever of Weber's piano quartet, and those by Brahms, Schumann and Schubert.
As a soloist he performed and recorded Stravinski and Perosi and gave the world premieres of concertos by Berio, Cervenka, Quaranta, Sinigaglia and Viozzi. Among other recorded highlights are Paganini's duets with guitar and Bottesini's duos with double bass.
Violinist and violist Lucia Magnoli, a long-time colleague of Mosesti's, told The Strad: 'The nobility and warmth of his tone seemed to transform the music score into a colourful palette, and his central European origins allowed him to trasmit to his audiences that particular intimate melancholy typical of the great Viennese composers.'
He leaves behind his wife, the mezzo-soprano Mitì Truccato Pace, and his daughter, Cecilia, a pianist and teacher at the Aosta Conservatory.