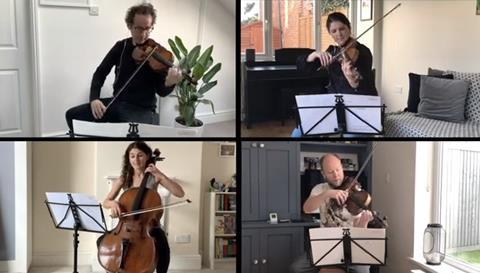 The four musicians of the Anglo-Irish Carducci Quartet - first and second violins Matthew Denton and Michelle Fleming, violist Eoin Schmidt-Martin and cellist Emma Denton - perform from separate locations, in compliance with social-distancing rules in response to coronavirus.
'It is so strange, considering how much time we normally spend together, to be apart for so long…,' the ensemble posted on Twitter. 'So we tried to put together some Philip Glass even while social distancing! Sending love to everyone around the world at this very difficult time. Stay well and healthy…'
An interview with the Carducci Quartet discussing their performance of Shostakovich's complete quartet cycle in a single day featured in The Strad June 2015 issue. To subscribe to The Strad click here.