Themes from famous violin concertos are woven into the Happy Birthday song in honour of the 70th birthday of violinist, pedagogue and conductor Eduard Schmieder, founder of the iPalpiti Artists International, a support programme for young musicians.
The video features Peter Rainer, iPalpiti concertmaster since 1995, leader of the Potsdam Camerata and professor at the Hanns Eisler Hochschule in Berlin, plus Berliner iPalpitians Nora Hapca and Stephanie Appelhans.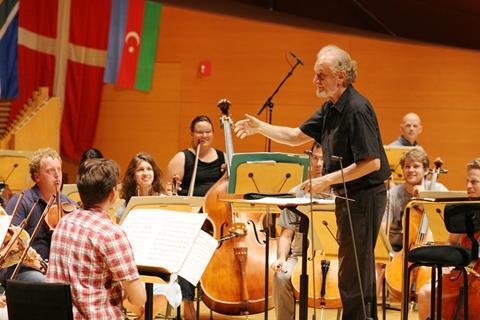 Schmieder is currently a L.H. Carnell Chair professor and artistic director for strings at Temple University in Philadelphia. Since moving to the US 1980, he has held professorships at Meadows School of the Arts in Dallas, USC in Los Angeles, and Shepherd School at Rice University in Houston. Graduates from Schmieder's class lead careers as soloists, orchestral and chamber musicians internationally, including London Philharmonic Orchestra leader Peter Schoeman.
Since founding iPalpiti Artists International with the support of Lord Yehudi Menuhin in 1997, iPalpiti festival & programmes in Los Angeles have featured and supported 379 musicians from 45 countries.