Instruments by Santo Serafin, Pressenda and Bergonzi triumph in the sales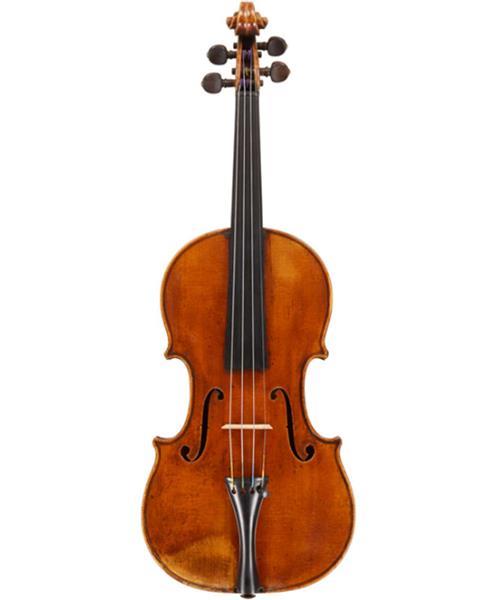 Instruments by Santo Serafin, Pressenda and Bergonzi were the stars of the May sales in London and New York, but there were some less familiar names in the mix too, among them Alessandro D'Espine and Armando Monterumici.
Just one bid was enough to secure Tarisio's top lot in New York – an 1843 G.F. Pressenda violin (pictured) – for $405,500. An 1822 violin by dentist and amateur maker Alessandro D'Espine, a contemporary of Pressenda in Turin, drew much more competition: bidding opened at $57,500, and the violin, which was estimated at $70,000–$100,000, finally sold for $153,400.
The top lot at Ingles & Hayday in London was a Venetian violin from 1743 by Santo Serafin, which fetched £240,000 on an estimate of £200,000–£300,000. Among other highlights were a c.1740 Nicòlo Gagliano violin, which was on at £80,000–£120,000 and went for £132,000. A cello by Armando Monterumici, who apprenticed with Raffaele Fiorini in Bologna, also performed strongly, making £40,800 on its £15,000–£25,000 estimate.
At Bonhams, a c.1700 Girolamo Amati violin once owned by Mussolini, and estimated at £100,000–£150,000, failed to sell. That left a c.1810 violin by Parisian maker Nicolas Lupot as the top lot, with a sale price of £104,500. The big surprise was lot 275, which was catalogued as a violin made by J.F. Lentz in London in 1816, and estimated at a lowly £1,000–£1,500. Someone didn't agree, and ended up paying £74,500 for the instrument.
The top lot at Gardiner Houlgate also smashed its estimate. Labelled 'Josephus Guarnerius…' and dated to the late 18th or early 19th century, the violin was on at £800–£1,400 but sold for £19,200.
All sale prices include buyer's premium.

Tarisio, 7—8 May, New York

1 Lot 290
A violin by Giovanni Francesco Pressenda, Turin, 1843
Estimate $350,000—$550,000 Sale price $405,500

2 Lot 289
A violin by Nicòlo Gagliano, Naples, c.1775
Estimate $150,000—$220,000 Sale price $269,900

3 Lot 284
A violin by Alessandro D'Espine, Turin, 1822
Estimate $70,000—$100,000 Sale price $153,400

4 Lot 288
A violin by Jean-Baptiste Vuillaume, Paris, c.1870
Estimate $120,000—$180,000 Sale price $141,600

5= Lot 268
A violin, ascribed to Ferdinando Gagliano
Estimate $30,000—$50,000 Sale price $118,000

5= Lot 285
A violin of the Mantuan school, mid-18th-century, ascribed to Tomasso Balestrieri
Estimate $80,000—$120,000 Sale price $118,000

Lots offered 282
Value of lots sold $4,523,892
Percentage sold 89%

Bonhams, 12 May, London

1 Lot 238
A violin by Nicolas Lupot, Paris, c.1810
Estimate £80,000—£120,000 Sale price £104,500

2 Lot 275
A violin by J.F. Lentz, London, 1816
Estimate £1,000—£1,500 Sale price £74,500

3 Lot 270
A violin ascribed to Andrea Guarneri, Cremona, 1682
Estimate £30,000—£40,000 Sale price £68,500

4 Lot 183
A cello attributed to Giuseppe and Antonio Gagliano, Naples
Estimate £40,000—£60,000 Sale price £43,750

5 Lot 174
A cello attributed to Romeo Antoniazzi, c.1900
Estimate £30,000—£40,000 Sale price £31,250
Lots offered 310
Value of lots sold £865,113
Percentage sold 48%

Gardiner Houlgate, 12 May, London
1 Lot 13
Late 18th/early 19th-century violin, labelled 'Josephus Guarnerius…'
Estimate £800—£1,400 Sale price £19,200

2 Lot 115
Violin by and labelled F.W. Chanot, London
Estimate £8,000—£12,000 Sale price £9,600

3= Lot 12
English violin by Joseph Hill, c.1770
Estimate £5,500—£7,000 Sale price £6,600

3= Lot 113
Violin probably by the Voller Brothers, London, 1899
Estimate £6,000—£8,000 Sale price £6,600

4 Lot 24
Early 19th-century violin probably by Bernhard Simon Fendt
Estimate £1,200—£1,800 Sale price £5,280

Lots offered 254
Value of lots sold £235,436
Percentage sold 70.4%
Ingles & Hayday, 13 May, London
1 Lot 176
A violin by Santo Serafin, Venice, 1743
Estimate £200,000—£300,000 Sale price £240,000

2 Lot 172
A violin by Nicòlo Gagliano, Naples, c.1740
Estimate £80,000—£120,000 Sale price £132,000

3 Lot 28
A violin by Jean-Baptiste Vuillaume, Paris, 1854, 'Charles Loeffler'
Estimate £100,000—£150,000 Sale price £100,000

4 Lot 146
A violin by Giovanni Francesco Pressenda, Turin, 1831
Estimate £80,000—£120,000 Sale price £96,000

5 Lot 169
A violin, probably by Pietro Guarneri of Venice, c.1730
Estimate £40,000—£60,000 Sale price £55,200
Lots offered 175
Value of lots sold £1,543,894
Percentage sold 57%

Photo: Tarisio's top lot was this 1843 Pressenda, which sold for $405,500 © Tarisio
Subscribe to The Strad or download our digital edition as part of a 30-day free trial. To purchase single issues click here