British violinist Tasmin Little describes how lessons with Yehudi Menuhin informed her new disc of Vivaldi's Four Seasons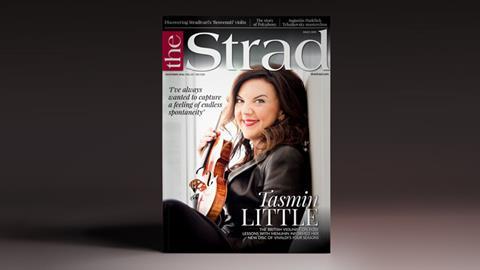 The Strad December 2016 issue is on sale now, in which British violinist Tasmin Little speaks to Emma Baker about her new recording, which pairs Vivaldi's Four Seasons with a 'modern day seasons' by Roxanna Panufnik.
Elsewhere in the issue, Andrea Zanrè tells the story of the 1727 'Benvenuti' Stradivari violin, while Rudolf Hopfner uses detailed micro-CT scans to reveal its secrets; Charlotte Gardner meets the founder of the Polyphony Foundation, which aims to bring together the disparate communities of Israel through music; and Julian Haylock gives a detailed guide to the many recordings of Bloch's 1916 Schelomo, for which almost every cellist has a new interpretation.
In our regular sections: Masterclass features Augustin Hadelich, who marks up the sheet music for Tchaikovsky's Violin Concerto in the first of a two-part article; In Focus gives a close-up view of a c.1850 violin by Georges Chanot; Janelle Steele gives tips for mending a crack in the frog in Trade Secrets; Israeli luthier Jonathan Hai invites us into his workshop in My Space; violinist and tutor Pauline Sachse speaks about playing with expression in Technique; US-Korean violinist Esther Yoo takes us through her Practice Diary; three dealers answer a question about certification and authentication in Ask the Experts; and Sarah Chang talks about her relationship with the Brahms Violin Concerto in Sentimental Work.
We also bring you news of the latest competitions, products and auctions, and comprehensive reviews of concerts, CDs and books.
The digital magazine and print edition are on sale now.