French cellist Jean-Guihen Queyras discusses recording Beethoven's 'Triple' Concerto during the pandemic, and the value of working with his musical 'family'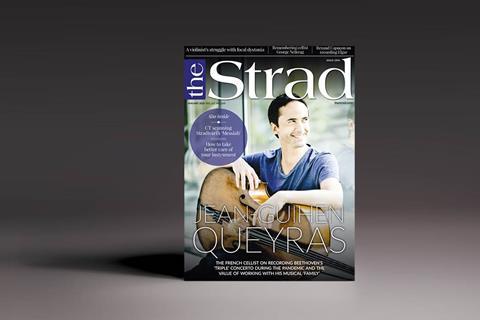 JEAN-GUIHEN QUEYRAS: The French cellist talks to Pauline Harding about socially distanced concerts, contemporary composers and his recording of Beethoven's 'Triple' Concerto
CT SCANNING THE 'MESSIAH': In 2016 Stradivari's best-known violin underwent a non-invasive examination. Francesco Piasentini and Gregg Alf reveal the findings, particularly in the neck area
GEORGE NEIKRUG: Students of the renowned US cello tutor, who died in 2019 at the age of 100, recount their fondest memories of his teaching style to Benjamin Whitcomb
SESSION REPORT: Charlotte Gardner discovers how Renaud Capuçon's latest recording of Elgar's Violin Concerto came about in the midst of lockdown
BASIC MAINTENANCE: From tracking down a buzz to dealing with sticking pegs, there are many ways in which players can take care of their instruments. Korinthia Klein reveals how
TWO-FINGERED TCHAIKOVSKY: LA violinist Clayton Haslop explains how he managed to carry on playing despite focal dystonia and a shoulder injury almost finishing his career
In our regular sections:
In the issue's Masterclass Alban Gerhardt discusses Saint-Saëns's Cello Concerto no.1 in A minor in the second of two articles; in Technique violinist Tomás Cotik discusses how to produce clear and controlled ricochet; British cellist Rohan de Saram shares his personal memories in Life Lessons; plus in Sentimental Work cellist Narek Hakhnazaryan selects Tchaikovsky's Rococo Variations.
We inspect a 1929 violin by Danish luthier Jens Nielsen Frost in In Focus; in Trade Secrets Renate Fink shares her method for making a partial plaster cast for use in repair work; My Space looks behind the scenes in the workshop of London-based luthier Jonathan Hill; and in Making Matters Alan Beavitt talks about making a fingerboard with the smallest possible amount of ebony.
We also bring you news of the latest products and auctions, plus our regular analysis and opinion columns, and comprehensive reviews of concerts, CDs and books. Simply go to the current issue to explore the full content listing.
Plus, in your digital edition:
Listen to clips from Renaud Capuçon's new recording of Elgar's Violin Concerto, while reading about his inspiration behind the album in Session Report
View extra images from this month's Auction Report, including instruments by Georg Kloz II and Francesco Rugeri
Violinist Clayton Haslop discusses playing the Tchaikovsky Violin Concerto using just two fingers of his left hand - hear selected highlights of the recording
Extra pics of violas d'amore accompanying the reader's letters in Soundpost
We review the string recitals at the 2020 Beijing Music Festival, with extra photos of the violinists and pianists involved
More from the Royal Philharmonic Orchestra's annual festive concert, this year taking place at St Albans Cathedral
And as ever, clips from the three 'The Strad Recommends' recordings
The digital magazine and print edition are on sale now, or subscribe to access the entire magazine online here.