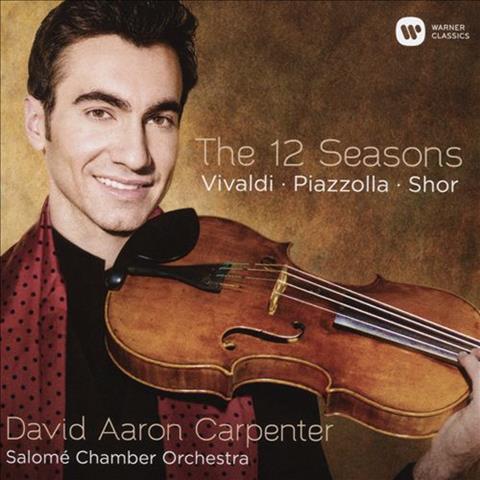 The Strad Issue: July 2016
Description: Carpenter adds Manhattan skies to the familiar Vivaldi–Piazzolla pairing
Musicians: David Aaron Carpenter (viola) Salomé Chamber Orchestra
Composer: Piazzolla; Shor; Vivaldi
Catalogue number: WARNER CLASSICS 2564 64869-5
Couplings of the 'seasonal' sets by Vivaldi and Piazzolla have proliferated in concert and on record since Gidon Kremer commissioned Leonid Desyatnikov to write an orchestration of the latter, specifically to accompany the former. For this CD, David Aaron Carpenter has gone one better, adding a set by Russian–American composer Alexey Shor. Although purportedly about Manhattan, Shor's predominantly melancholic music has more than a whiff of the shtetl about it; only the concluding Spring section allows a view of the proverbial silver lining in an otherwise overcast sky. Shor is composer-in-residence with the Salomé Chamber Orchestra, the New York-based ensemble founded and led by the three Carpenter siblings. His music is perfectly tailored to the band's considerable strengths, prominent among which is David Aaron Carpenter's sensuous sound, which is consistently beautiful throughout his instrument's range and proves especially sweet in its uppermost register.
Piazzolla's Four Seasons of Buenos Aires is performed in Desyatnikov's arrangement, with slight adjustments of the solo part for the viola, the colour of which ideally suits this wistfully nostalgic music. Conversely, Vivaldi's solo violin part suffers when performed with the inevitable octave transpositions, brilliant as the playing per se indisputably is: in Spring's slow movement, the solo viola and the orchestral viola part do get in each other's way, and Winter's homely interlude is similarly compromised.
The recording quality is excellent but its balance is partial to viola player Carpenter, occasionally to the detriment of orchestral detail. Cellist Mihai Marica contributes idiomatic solos to Piazzolla's Autumn and Winter. Each of the Salomé members is on his or her collective toes, bringing Piazzolla's rhythms and the virtuoso string writing throughout to exhilarating life.
Carlos María Solare