Deliciously flamboyant and fiery Baroque violin concertos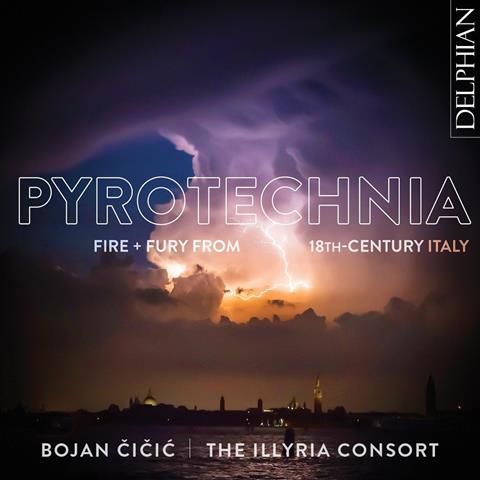 The Strad Issue: March 2022
Description: Deliciously flamboyant and fiery Baroque violin concertos
Musicians: Bojan Čičić (violin) Illyria Consort
Works: Vivaldi: Violin Concertos: in D major RV205 ('fatto per Maestro Pisendel') & 213a ('per Signora Anna Maria'). Tartini: Violin Concerto in E major D48 ('Rondinella vaga e bella'). Locatelli: Violin Concerto in D major, op.3 no.12 ('Il labirinto armonico')
Catalogue number: DELPHIAN DCD34249
Pyrotechnia: Fire & Fury from 18th-Century Italy
Bojan Čičić's spectacular Baroque firework display opens with a sparkling account of Vivaldi's D major concerto RV205, its outer movements bristling with breathtaking virtuosity (especially in the scintillating final Capriccio) and its central Largo expressively nuanced and imaginatively ornamented within the bounds of the pulse. The pyrotechnics continue with another Vivaldi Concerto in D major (RV213a), delivered in similar vein, with Čičić particularly excelling in its finale and concluding cadenza.
Somewhat less flamboyant in character, Tartini's E major Concerto nevertheless presents various technical and musical challenges, of which Čičić proves largely to be the master, despite some uncomfortable moments in the final Capriccio. Its lyrical central Largo is expressively realised. He negotiates with brio the compendium of technical challenges presented by Locatelli's notoriously difficult 'labyrinth' Concerto op.3 no.12 and, despite some occasional questionable intonation, emerges triumphant, particularly in the first movement's Capriccio and the dance-inspired finale.
The one-per-part, period-instrument Illyria Consort provides stylish, restrained and lightly transparent rather than full-bodied accompaniments. The group trades textural clarity and an intimacy particularly well suited to all the slow movements and the opening movement of Tartini's Concerto for power in the other more dramatic outer movements, especially those by Vivaldi. The recording is well engineered and ideally balanced.
ROBIN STOWELL