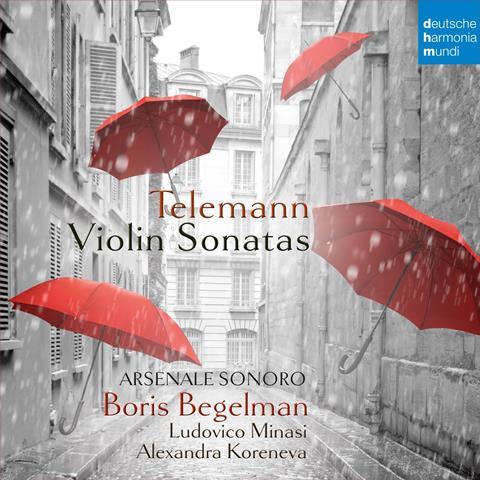 The Strad Issue: December 2015
Description: Alert readings of a handful of Telemann's accompanied sonatas
Musicians: Arsenale Sonoro: Boris Begelman (violin) Ludovico Minasi (cello) Alexandra Koreneva (harpsichord)
Composer: Telemann
Boris Begelman offers highly accomplished readings of seven of Telemann's sonatas for violin and basso continuo, four of which are claimed to be world premiere recordings. Fleet of finger and with sparing use of vibrato, he overcomes the challenging figuration with precision, shapes phrases expressively and captures the varying characters of Telemann's 'mixed style' with skill and flair.
Particularly notable are the various dance-influenced movements (especially the quasi-suite of TWV41:a1) and the exciting, sometimes hard-driven finales, some of which (notably the gigue-like G10 and the rumbustious moto perpetuo of G1) are realised in appropriately rustic vein. With a nod to his own introductory booklet notes, Begelman adds some extempore embellishment, but he might have been more imaginatively adventurous throughout in this respect. His account of the B minor Fantasia is generally well conceived, even if his opening Siciliana seems somewhat pedestrian. Begelman's continuo colleagues provide excellent, alert support, matching his every mood. Cellist Ludovico Minasi relishes his participation in imitating the solo line in, for example, the Allegro of d5 and harpsichordist Alexandra Koreneva constantly keeps the music alive, interesting and harmonious. The resonant recording is forward yet ideally balanced, with prominence given to the cello where appropriate. One production error assigns the wrong mode to the Sonata a1.
ROBIN STOWELL