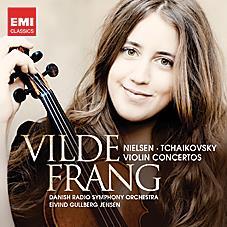 The Strad Issue: Sepember 2012
Description: Nimbleness and muscularity from a rising Norwegian star of the violin
Musicians: Vilde Frang (violin) Danish Radio Symphony Orchestra/Eivind Gullberg Jensen
Composer: Tchaikovsky, Nielsen
The concertos of Tchaikovsky and Nielsen are not an obvious coupling, but the young Norwegian violinist Vilde Frang has established a Scandinavian–Russian precedent with her recording of Sibelius and Prokofiev's first concertos. Nielsen's Concerto always deserves an airing, and doesn't get as many as it should in the concert hall. Frang is a compelling advocate. She performs it with a delightful mixture of nimble virtuosity, melodic fluency and a slight air of improvisation. She has a gift for a kind of liquid phrasing, not quite rubato, but with a quixotic freedom and elasticity that suit Nielsen's work extremely well. She has power when she needs it – there is some real weight in the second movement's cadenza – but it all sounds enviably effortless. There is mystery as well as melancholy in her performance of the Poco adagio, and she dashes off the finale with a cheeky exuberance, joyful swoops and all.
Tchaikovsky, of course, is well served already. Frang brings to him the qualities that mark her Nielsen, with some added vibrato-laden passion and a necessary muscularity. She also dispenses with some of the 'improvements' that have been made to the score over the years, although she is no slave to it herself, and makes a couple of cuts in the finale. These are both excellent performances, ably partnered by Jensen and the Danish orchestra, and well recorded.



TIM HOMFRAY