The Tchaikovsky Violin Concerto presents a mixture of Eastern and Western influences to the German violinist – and only revealed its true secrets after a whole decade of resting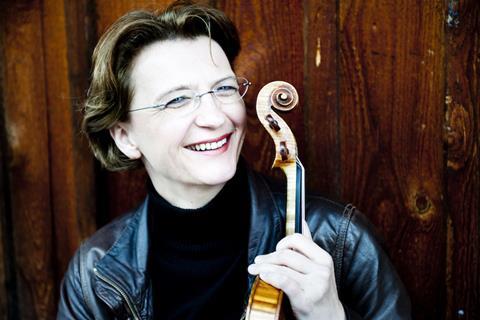 I was already studying at the Hanns Eisler Hochschule when I first heard the Tchaikovsky Violin Concerto. It had an immediate effect on me: it touched my soul and my heart and I loved to play the two recordings I had, by David Oistrakh and Jascha Heifetz.
Growing up in East Berlin I'd been exposed all my life to Tchaikovsky's music, and despite its complexity I've always found it easy to understand, as it has such a direct emotional appeal to the senses.
I was steeped in the Russian tradition when I started learning the concerto, and both Heifetz and Oistrakh were Russian- school violinists, but my tutor at the Hochschule, Werner Scholz, had come from the German tradition: he was a student of Gustav Havemann, who studied with Joseph Joachim, and his strength was in giving me the freedom to develop and find my own way of playing.
I listened to the piece so often that it permeated my subconscious, and I constantly had to improve my technique in order to play it, although the challenge was to make it sound romantic rather than too virtuosic.
I don't see the concerto as a virtuosic work. It's very deep and very Russian, but there's also an air of elegance and nobility throughout the whole piece, which I think is connected to the French style of composing. And there's a purity of emotion: I think that for all his life, Tchaikovsky used the D major key to convey his melancholy feelings of yearning.
The second movement, for me, is a dreamy waltz that flows like a ballroom scene, especially effective with a mute. It contains the theme of the third movement, which very softly and subtly appears in the background, before striding forth in the third.
Not all pieces are personal but in this one you can hear that Tchaikovsky is in a crisis of depression
Like the 'Pathétique' Symphony it can switch from sad to funny to earnest in a heartbeat: there are so many sides to the piece, and as a player you need to take every one of them seriously.
I performed the concerto many times when I was young, but then for around ten years I completely stopped playing it. I understood that I wanted to go a different way, to find something else that I couldn't hear in my own interpretation.
It came from teaching the piece to my students, and looking very carefully at the score. The concerto has so many traditions, which everyone exaggerates, and I think I was guilty of that as well. It's nice to be able to go back to the roots of the piece, and I needed the break to find this new approach.
Tchaikovsky's own articulations and dynamics were certainly different from how I'd originally played them. It's always important to understand the composer's background and personality; not all pieces are personal but in this one you can hear that he's in a crisis of depression, of being trapped in a loveless marriage.
I also listened to other works by him to understand his language even more. Most recently, I've performed the concerto with Camerata Bern in a recording we made without a conductor. We knew each other so well that it felt like a very trusting recording session. It was a challenge that I loved – the idea of everything being transparent and the energy flowing in an organic way between the soloist and ensemble.
It also means you have to be alert to all that's going on around you – there's a sense that everyone's equally important to the end result.
INTERVIEW BY CHRISTIAN LLOYD