Damian Iorio, violinist, conductor and music director of the UK-based National Youth String Orchestra, writes about the importance of ensemble skills. From 2018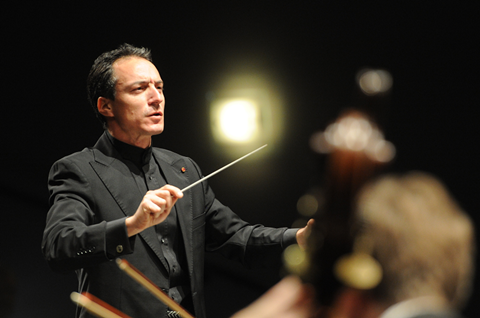 Any ensemble – regardless of size, whether symphonic or chamber, orchestra or opera – should aspire to perform together as if component parts of a single body. One only needs to look at the great string quartets who think, feel and play as one entity to realise the importance of this ideal. Playing in any ensemble is complicated; it is a microcosm of society, a group of individuals from different social backgrounds, with often diverse experiences, who must work closely together in order to achieve one common goal. One moment you may be required to lead, the next moment follow or support, and this demands great sensitivity, flexibility, awareness, hard work, shared trust, open ears and open minds. The art of listening, engaging and communicating is fundamental not only when performing music, but in life in general.
Alongside my career conducting orchestras and theatres around the world I am also very involved in education and outreach, and have been music director of the National Youth String Orchestra for a number of years. I was a violinist before I changed career, and youth orchestras were very important to my development. When I conduct an orchestra such as the London Philharmonic or Philharmonia, which command such a high technical level, the basics of ensemble playing – playing together, listening intonation, articulation – are often taken for granted. However, these demanding skills require nurture within a youth orchestra setting, and in the National Youth String Orchestra we intensely focus on the development of ensemble playing skills.
Good ensemble skills are invaluable for musicians at every level. These skills are transferable to a career outside of the instrumental world where participants will also find themselves having to learn and listen to others, as well as work collaboratively with a diverse group of people – some of whom they may not get on with personally but must collaborate with professionally in order to work towards a greater purpose.
At NYSO we structure our courses very carefully in order to develop secure ensemble skills. There are two orchestras for students of different ages and levels (In 2019 we will launch a third orchestra for younger children) and we curate one programme each year, preparing the music over two courses that take place at Easter and Summer, before a public concert performance. This gives the young musicians time to learn the repertoire in detail and depth, and removes the pressure of having to perform before they are ready.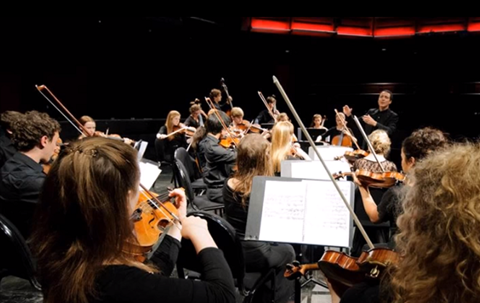 We have a dedicated coach for each section, and sectional rehearsals take up a lot of the rehearsal schedule, especially for the Easter course. The coaching staff are highly experienced professionals who play at the highest level and are respected teachers. The students benefit from the full attention of each coach, enabling individual focus and assistance in resolving technical difficulties. Preparation is key as each section is small, so everyone is treated with equal importance and given equal responsibility. Working with such experienced professionals is important, and the insight they give is invaluable, including the 'war stories' of the profession!
I have great trust in the instrumental staff and we cooperate very closely. They each have their own approach to teaching and coaching. At the beginning of the course they may start by playing through the pieces, picking out hard passages, organising fingers, learning how to sit properly (often a problem for young people!), or they may start with warm up exercises and stretching and a little education about Alexander Technique. The students will be playing for many hours a day, more than they normally do, and it is very important that they understand how to look after their bodies, stretch and release tension.
At the end of the first day, I will take a full orchestra rehearsal so that everyone, students and coaches, can hear how everything is coming along. The coaches sit in on the majority of the full rehearsals, so are on hand to help out with details or issues that crop up, such as a fingering or bowing which might work in the sectional but doesn't produce the desired effect in context. As the course progresses, I mix in more full rehearsals to the schedule, but I am always flexible with the rehearsal planning and adapt as the course progresses.
We work the students hard but I make sure that they have enough free time during the courses not only recharge their batteries and rest their bodies, but also to spend time together socially. The social side is very important as these are experiences that they will remember for the rest of their lives. A good group atmosphere translates positively into their playing.
All of this hard work allows us to explore something very valuable for ensemble playing, and that is the development of the musical connection between everyone in the orchestra – the building of an understanding so that we can perform chamber music together. This is what I try to develop not only with youth orchestras, but with any orchestra I work with around the world. As a conductor, I express music with visual communication, using my hands, eyes and body language. If I can develop this connection between the players it also allows me to build a relationship with the orchestra which transcends the visual communication, freeing me and all of the musicians in the orchestra to express ourselves, and the music of the composer, as one.
Trust, listening, communicating, cooperating. Important not only for music, but for life.
For more information about the National Youth String Orchestra, visit www.nyso.uk