Luthier John Wright recalls his transition from violin playing to making, as well as how his time at the Newark School of Violin Making empowered him to stand up to a fear of failure in order to seek improvement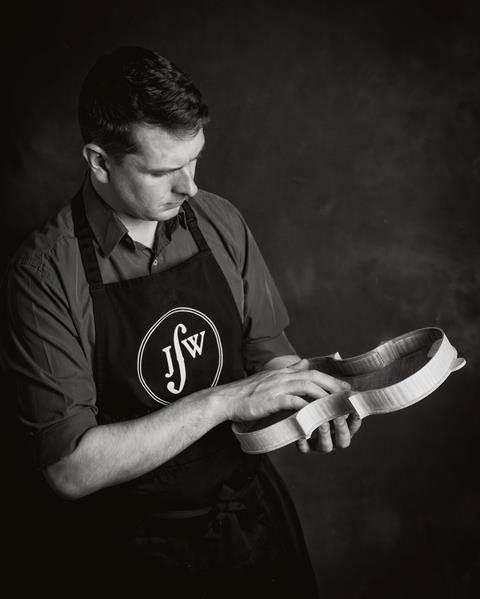 My introduction to stringed instruments started like so many others, with the option to learn the violin for free at school. I feel this is worth mentioning as it was the catalyst to the careers of so many friends and colleagues and there has been a whole generation since, that were not always afforded the same opportunity. (Luckily this has been addressed, in Scotland at least.)
Through this, I was fortunate to meet the well-known Glasgow-based teacher, Bob Cairns. It was Bob that first gave me a sense of there being more to violins than just playing them. He would turn up with different instruments and I was constantly in awe of the potential story behind them.
Fast forwarding from there, I studied towards a performance degree on violin at the Royal Conservatoire of Scotland and then took up the position of principal second violin of what was then known as the Army Orchestra in London (later known as the Royal Artillery Orchestra, becoming the Countess of Wessex's String Orchestra).
The Army had a stunning collection of old instruments that I was lucky enough to have a hand in curating as part of my job. This was a huge turning point in realising I had to know more about what made these instruments so special. A chance encounter with the luthier Gil Solomon finally pushed me to put playing on hold and apply for a place at the Newark School of Violin Making.
Newark really stands out as a lutherie school as it fosters the interests and strengths of the individual. Whether it's the latest repair techniques, crisp new making or chasing ways to copy the old masters, Newark has a great faculty of tutors that are always willing to go the extra mile to bring out the best in their students.
My first teacher was the award-winning viola maker Antoine Gourdon, who channels a real attention to detail for both form and function. I also studied under Rob Cain, Peter Smith and Bharat Khandekar. I learnt a great deal from each of them and still do: Peter for his love of the characterful and almost defiant charm of the early English makers; Rob for his honest and holistic approach to being a luthier and Bharat for his patience and willingness to delve into lessons learnt from the great instruments he has encountered over the years.
The most profound turning point for me at the school occurred after I expressed a real fear of never being able to match the output of the great makers like Stradivari. The great makers seemed to exist on a plinth of perfection and intangible myth. Bharat Khandekar took me to the library and spent a whole afternoon pointing out all the small flaws on these allegedly perfect instruments. His point was that they were made by a human hand and that their greatness was to be found in the ability to manage and balance that very human quality of imperfection.
Now, when I see and play work of the old masters, I sense the pragmatism of their daily lives weighed against a true loyalty to the concepts of the Renaissance era that birthed the violin. What I find truly inspiring is the variation in the instruments. It shows a constant desire for improvement. 500 years on, I see this in the work of many modern luthiers. I see it as a sign of aspiring for greatness through not fearing failure. This realisation not only had a powerful effect on my making, but also on finding my own voice as a violinist.
I see it as a sign of aspiring for greatness through not fearing failure
As with most training in the arts, the emphasis at Newark was mostly on the craft itself rather than how to run a business. So it was a daunting step to set up my own workshop early on. There were many reasons to look at applying for jobs with other makers or repairers but two years on from graduating from NSVM, I have been enjoying a reassuringly busy schedule. With some early commissions that were certainly connected to my colleagues from the playing world, the instruments have since been speaking for themselves and my waiting list is growing more and more. A major highlight has been completing three consecutive instruments for different members of the London Philharmonic Orchestra's cello section. The faith that all three cellists placed in me, at such an early stage in my career, has been hugely empowering.