Over 200 musicians participated in the event held on Sunday afternoon, including star violinist Jennifer Pike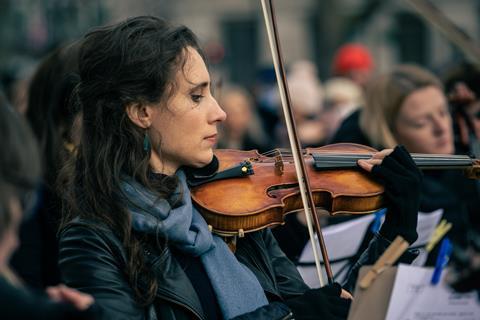 A flashmob of musicians descended upon London's Trafalgar Square on Sunday afternoon, performing Ukrainian works to speak out against the ongoing Russian invasion.
Music for Peace was organised in only five days by Londoner Juliet Barclay, as a way to show support and raise funds for the DEC Ukraine appeal. The ensemble, consisting entirely of volunteers, was conducted by Russian-British pianist Petr Limonov.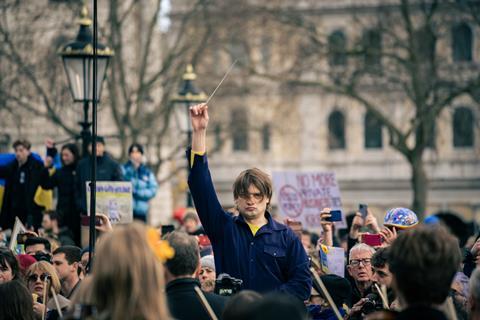 Using the front of the National Gallery as a makeshift stage, they performed three Ukrainian works: the Ukrainian national anthem, Prayer for Ukraine by Mykola Lysenko and Hymn 2001 by the Ukrainian composer Valentin Silvestrov. The rights to the piece were bought through crowdfunding to support the composer Silvestrov, who is believed to be in Kyiv during the invasion.
Dressed in Ukrainian colours of blue and yellow, the ensemble consisted of a wide range of musicians, from older amateur players, young students and professionals. Star violinist Jennifer Pike made an appearance, as well as composer/DJ Gabriel Prokofiev on French Horn.
Pike told the Guardian, 'At this time we are trying to do all we can for a horrific situation, and musicians only really know one way, which is to play.
'Today it is all about solidarity with Ukrainians and all people suffering at the moment. We are trying to show that our hearts are with them. And we play with all our hearts today.'
Photographer and cellist Matthew Johnson was on the scene documenting the event. He told The Strad, 'As Petr started, I was stood in the middle of musicians and, wow, what a feeling! When the crowd fell quiet and music filled Trafalgar Square, the atmosphere was incredible.
'It felt almost like a music festival but with a very serious statement. I think everyone felt the same weight of responsibility to play in solidarity for peace in Ukraine. Documenting this event felt important and very real when so many people come together.
'Everyone was there for the same reason and as proud to be playing as I was photographing.'
A call for musicians was made through social media and word-of-mouth during the week, with organiser Barclay quickly becoming inundated with volunteers. The event could only accommodate 200 musicians, with more than 500 being turned down.
A Whatsapp group was then made with all the musicians and information shared through there, with musical parts sent to everyone via PDF. A Facebook page accepting donations for the DEC Ukraine Appeal via Red Cross can be found here.