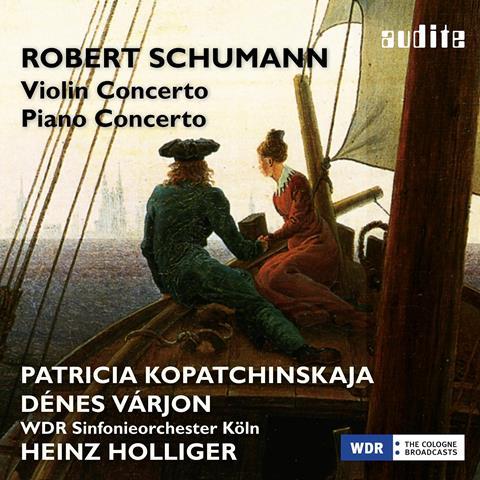 The Strad Issue: June 2016
Description: Two of today's leading violinists take on the challenge of Schumann's Concerto
Musicians: Patricia-Kopatchinskaja; Dénes-Várjon; WDR-Symphony-Orchestra; Heinz-Holliger
Composer: Schumann
Both Patricia Kopatchinskaja and Thomas Zehetmair relish the quick and unpredictable passions of Schumann's music. There is nothing comfortable about their performances of the Violin Concerto, which is as it should be. Big-name violinists have tried to make a fashion model from this Cinderella of concertos, but at every turn Schumann's writing resists the virtuoso conventions of the early Romantic era.
Directing the smaller forces of the Paris Chamber Orchestra, Zehetmair allows himself a more playful space than in his previous recording of the work (Warner Apex), in which he was battling the full forces of the Philharmonia directed by Christoph Eschenbach. The ECM engineers help by producing a much cleaner and clearer sound stage than the pinky haze around him on that 1988 recording.
The slow movement features one of Schumann's less distinguished melodies in the instrument's lower register, against a soft wash of strings, and Patricia Kopatchinskaja tries one too many tricks to lift the line into prominence; the size of the WDR Symphony Orchestra is again problematic, though Heinz Holliger is a far more sympathetic accompanist. The more consistently inspired outer movements bring out her quixotic, mercurial best, and once past an awkward edit into the finale, Kopatchinskaja makes this gawky but charming polonaise smile in ways that elude most of the competition – including Zehetmair, who takes a less rhapsodic line with a more determined pulse.
The couplings are important: Zehetmair brings outstanding imagination and a rigorous architectural form to the Fantasie, which Schumann wrote directly before the Concerto. His direction of the First Symphony also reveals the impulsive glories of Schumann's orchestral writing with smaller-than-usual forces. On the Holliger-directed disc, Dénes Várjon takes the heroic profile of the Piano Concerto seriously without letting it settle into lionly grandiloquence. I returned to both discs many times but, with feet to the fire, would pick Kopatchinskaja, Várjon and Holliger.
Peter Quantrill